Care homes 'need to promote nursing jobs' to beat staff crisis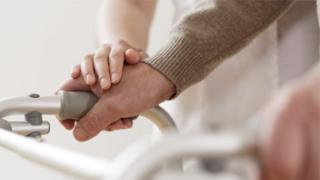 Care homes need to do more to promote their positive image as a workplace to combat an "intolerable" shortage of nurses, industry operators have said.
More than a quarter of nursing posts are currently vacant, leading to more reliance on agencies to fill rotas.
Now the industry has warned there may be insufficient capacity to cope with increased demand as winter sets in.
Dr Donald Macaskill, chief executive of Scottish Care, said: "This is clearly an unsustainable model."
Dr Macaskill, whose body represents the country's independent social care services, said work in the sector can provide "a hugely rewarding career path".
'Safe staffing levels'
He will tell the National Care Home conference in Glasgow: "This needs addressed as a matter of urgency.
"We need to work with local authorities, the NHS and other partners to attract more people to work in the care sector, as it can be a hugely rewarding career path which offers a range of skills and experiences to nurses.
"We need to stop talking down care homes and start celebrating them. They are about extraordinary people living ordinary lives, and they present a vast range of opportunities for personal and professional development for those working in the sector."
The conference, to be attended by Scottish Health Minister Shona Robison, will hear that nurse vacancy levels currently sit at 28% - up from 18% last year.
Retention difficulties
Dr Macaskill will say: "In 2015, 66% of organisations were struggling to fill posts. Now it's 98%.
"Recruitment and retention difficulties have detrimental implications for continuity of care and requires high-cost solutions such as nurse agency use to meet safe staffing levels."
The average shift payment for a private sector nurse is £343 - but some agencies charge up to £800.
Dr Macaskill will tell delegates: "We need to look at why many people, nurses and other professions, are not choosing to work in care homes.
"We need to attract more people to work in the social care sector and articulate the many benefits of doing so."