How might Scottish universities change outside the EU?
In a two part series, BBC Scotland's education correspondent Jamie McIvor assesses the challenges which leaving the European Union will pose to Scottish universities.
First he looks at the questions which surround the position of future students.
---
Scotland's universities are international melting pots. Some campuses are amongst the most cosmopolitan parts of Scotland.
But not all students from overseas are simply here on exchange visits.
Many have chosen to come to Scotland to study for the whole of their degree and will graduate here
There are nearly 13,500 undergraduate students from other EU countries at Scotland's universities. In both legal and practical terms, they are treated in exactly the same way as Scottish students and receive free tuition.
A further 6,500 from the EU are studying in Scotland at postgraduate level.
Undergraduates at Scottish universities can be split into three broad categories:
*Students from Scotland and EU countries outside the UK who receive free tuition.
*Students from England, Wales and Northern Ireland who pay tuition fees of around £9,000 a year.
*So-called "international" students who come from countries outside the EU who pay uncapped tuition fees.
EU students receive free tuition in Scotland because of European law and do not need visas or work permits so how might Brexit affect them?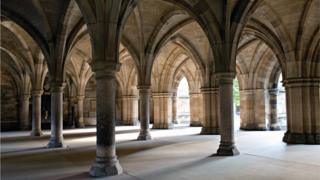 Csenge Poljar from Hungary and Iva Parvanova from Bulgaria are both in their third year studying economics at Glasgow University.
They share similar concerns about whether future students will be able to enjoy the same experience they are having.
Csenge wanted to study in an English-speaking country and says that without free tuition she would not have been able to study in Scotland,
Csenge said: "Prior to university, I spent two summers here. I had a family friend living south of Glasgow - she was the one who recommended Glasgow. In general Scotland is a really welcoming country, she said."
Another concern is whether, following Brexit, students form EU countries would need a work permit so they could take a part-time job to help them through their studies.
Iva chose to study in Scotland rather than the USA or other parts of the UK.
She said: "The best thing about Glasgow... is the huge international student body. You see perspectives you don't think you will be able to experience so early on in your academic career.
"There's a lot of Bulgarians coming to the UK to get their higher education and I think when - if - the UK leaves the EU that would really decrease their chances of firstly getting accepted and secondly being able to afford a visa, being able to afford fees."
---
Analysis: What are the options?
There can be no clarity on these issues just now. It simply depends on what sort of Brexit package is negotiated by the UK government with freedom of movement likely to be one of the most important issues to be settled.
As for the future of free tuition, that is likely to be a political decision by the Scottish government.
In legal terms, the Scottish government believes it has to offer free tuition to EU students if it provides free tuition for Scots.
It is, however, possible to treat students from other parts of the same member state differently which is why students from other parts of the UK can be charged fees.
The Scottish government says current EU students and those who start their degree next year will be able to complete their degrees here without being charged fees.
It is interesting to speculate on how the situation may change if Britain leaves the EU in 2019.
The Scottish government would, presumably, be under no legal obligation to provide free tuition to EU students - but it may well choose to continue doing so.
There is no suggestion that EU students would be anything but welcome in Scotland's universities but would voluntarily providing them with free tuition prove politically acceptable? Certainly, some public debate seems inevitable.
It may well be the case that an SNP administration would not want to do anything after Brexit which would need to be changed later if an independent Scotland re-joined the EU.
The Scottish government is committed to helping more people from disadvantaged parts of Scotland get to university. Within academia, there is concern that unless the total number of students grows others will find it even harder to get on to the top courses. So would free tuition for EU students - who, by implication, are currently getting free places which would otherwise go to Scots - still prove acceptable to voters?
Some may argue that students from EU countries should either be charged the same tuition fees as students from the rest of the UK or even charged the uncapped fees applicable to international students.
---
For Scottish students and those from other parts of the UK, Brexit will not have any day-to-day impact but some could be affected in one crucial way.
The Erasmus scheme - established by the EU - has helped thousands of students spend time in other European countries. About 2,000 from Scottish universities used the scheme in 2013-14.
Not all exchange trips are part of the Erasmus scheme but it has provided once-in-a-lifetime opportunities for many.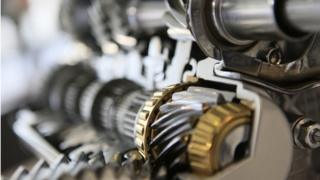 Ronnie Woodward from Tillicoultry is studying for an engineering degree at Strathclyde University but spent last year in Sweden. He believes he benefited hugely - both personally and academically.
He says: "I've experienced so many different cultures, I've got so many international friends. Even just two weeks ago I had French mates over who I met through Erasmus. It's different as well seeing a different style of teaching."
Brexit does not imply the end of British participation in Erasmus - universities at countries outside the EU take part too - but its future cannot be taken for granted either. Arrangements would need to put in place to ensure that participation in Erasmus can continue.
In the second piece, Jamie McIvor will assess how universities themselves and research may be affected.