Back on track: How inmates are finding jobs on the trains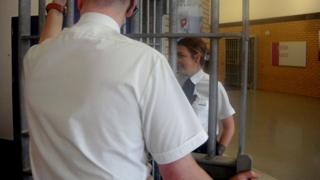 No-one expects it'll be easy getting into or out of a prison. And sure enough, gaining access to Addiewell Prison in West Lothian is a long, slow process.
Visitors' fingerprints have to be put into a biometric recognition system, mobile phones have to be stored in lockers at reception. Then there's the usual airport-style security, with the addition of a sniffer dog to check if you're carrying any drugs.
After that there's a succession of heavy metal doors. As they're opened an automatic warning barks out "door insecure, door insecure," until they're safely closed again.
The security in Addiewell is as tight as any prison in Scotland. It houses all categories of adult male offenders. But it's developing an approach to the rehabilitation of inmates which makes it stand out from other establishments.
Today the recruiters from Virgin West Coast are here. They're looking for inmates who they can bring into the company to start work as quickly as possible after their release.
The radical idea of making a positive choice to seek out ex-offenders comes from the very top of the company. Sir Richard Branson believes that Britain's prisons are a largely untapped resource, housing motivated and talented individuals who are unjustly ignored or shunned in the employment market.
He says he wants his companies to set an example to other businesses to show the benefits of giving ex-offenders a second chance.
Kevin, 36, is one of the inmates waiting to be interviewed by Virgin recruiter, Kathryn Wildman. He is thrilled at the possibility of getting a job.
"I'm a good person that's done, you know, something that wasn't good. But the good in me is shining through."
He talks about his time in the King's Own Scottish Borderers and how ex-military people often struggle to find a place in society after their service is over.
But right now Kevin is brimming with self-confidence. He says he's determined to "do a 180", to turn his life around and leave the past behind.
A lot of his enthusiasm seems to come from Addiewell's employability coordinator, Robert Taylor. He delivers a two-week course just before inmates are due to be released which prepares them for getting back to work.
He says the course and Virgin's commitment create a buzz in the whole prison, a feeling that there is hope for these men who need to rebuild their lives.
"What we're trying to achieve here is to plant a seed and say, there is hope for you when you get out. If you grasp an opportunity, the chances are you're going to go somewhere with it."
Emma Stuart, the prison's deputy director, works alongside Virgin's Kathryn Wildman to make sure that both organisations get the most from their joint effort.
I put it to her that some people will think it unfair that ex-offenders should get preferential treatment in the jobs market. Her answer is carefully considered.
"What we know is that offenders who are connected to their family, have somewhere to live and have a job are up to seven times more likely not to reoffend and to successfully reintegrate. That creates safer communities and that creates opportunities for lots of people."
That argument has clearly convinced Sir Richard Branson.
Of Virgin West Coast's new recruits last year, 3% were ex-offenders. And the company is now offering advice to other businesses who might be interested in pursuing a similar recruitment policy.
As a visitor, getting through Addiewell's security is a lot quicker on the way out than on the way in.
And if any of the men interviewed by Virgin get a job with the company, they may find that their return to the outside world is also smoother than they might have expected.
Hear more on this story on BBC Radio 5 Live Daily with Emma Barnett from 10:00 on Friday 11 November.