Holyrood committee warns over school racism post-Brexit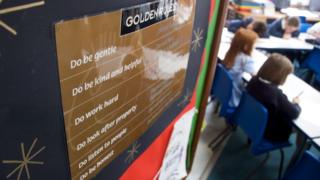 Teachers fear discriminatory language is becoming more acceptable among some pupils and parents after the Brexit vote, MSPs have been told.
Edinburgh University's Moray House School of Education called for race to be "explicitly back on the agenda" after the referendum in June.
Academics from the school said teachers were now "reluctant and anxious" about addressing racism.
But they said there had been no spike in recorded hate crime in Scotland.
MSPs were listening to evidence being submitted to Holyrood's Equalities and Human Rights Committee.
The academics said recent discussions with teaching staff pointed to a "growing mood" among some pupils and parents that discriminatory language and views were acceptable.
Some parents were also more likely to excuse behaviour such as racial bullying with phrases like "it happens all the time" and "[it's] just unfortunate my daughter was caught", MSPs were told.
The researchers added: "In the views of these school leaders, such a response would not have been forthcoming in previous years. 'Race' needs to be explicitly back on the agenda."
They recommended updated advice for schools, more training for teachers and better recording of incidents of bullying and harassment to tackle the problem.