US entry in World Championship Scotch Pie Awards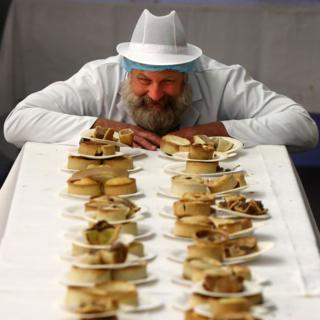 The World Championship Scotch Pie Awards have had their first ever international entry with a contender from the US.
Kevin Haggard, from Sunblest Foods in Santa Maria, California, travelled to Dunfermline to throw his pies into the ring.
They joined 500 entries of all types of pie supplied by 100 bakers and butchers for the competition's judging day.
The winner will be announced at a gala lunch on 11 January next year.
Mr Haggard said: "I saw an opportunity some years ago now to develop the market for superior meat pies and so I contacted the Pacific Northwest Scottish Society, and I provided pies for a Burns night dinner.
"This is how I was introduced to the Scottish community in Seattle and this allowed me to begin selling pies at the Highland Games."
He now supplies pies as far afield as Seattle, Chicago, San Francisco, Albuquerque, Salt Lake City, Detroit and Dallas
Some of the World Championship categories up for grabs
Football Pies & Savouries
Macaroni Pie
Sausage Roll