Scots 'can lead' on cutting birth defects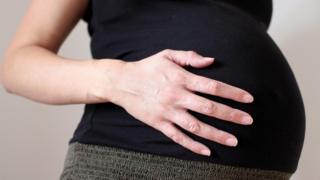 Scotland can "lead the way" in adding folic acid to flour-based products to reduce the number of birth defects, a public health expert has said.
Women who are planning to become pregnant are currently urged to take folic acid supplements to cut the risk of neural tube defects (NTDs).
But Dr Linda de Caestecker said this led to a "health inequality gap".
She said fortifying flour with folic acid would ensure all women have high levels of folates in their system.
Neural tube defects of the brain, spine, or spinal cord - the most common of which are spina bifida and anencephaly - happen in the first month of pregnancy, often before a woman knows she is pregnant.
Dr de Caestecker, the director of public health at NHS Greater Glasgow and Clyde, said an adequate level of folic acid, also known as vitamin B9, in a woman's system before conception has been shown to reduce the incidence of NTDs by up to 72%.
'Less advantaged sisters'
But it can take up to three months of daily folic acid supplements and healthy eating to reach the level at which prevention works, meaning women need to increase their intake long before they become pregnant.
Research suggests that only a third of women take the supplements at the right time.
Writing in the Herald newspaper, Dr de Caestecker said: "This has resulted in a health inequality gap. Relatively well-educated, well-informed, well-off and well-motivated women follow the advice while their less advantaged sisters often do not.
"The gap grows between women with well-planned and well-timed pregnancies and the large percentage of women who become pregnant unintentionally or with minimal preparation."
Dr de Caestecker said more than 70 other countries, including Canada, the US and Australia, already fortify their grain supply with folic acid.
The UK Food Standards Agency has also endorsed fortifying with folic acid, as have all four of the UK's chief medical officers.
The Scottish government said in January that it was considering the move, but the UK government is not currently moving towards introducing the policy.
Dr de Caestecker urged Scottish ministers not to wait for grain fortification to be introduced UK-wide, which would be the easiest solution for bakers.
'Social justice'
She said: "Taking this step is a devolved power.
"There is no serious, evidence-based, scientific case against folate fortification.
"It is a great opportunity to be the first nation in the UK to leave the starting gate and bolt toward a future of better pregnancy outcomes, delivering social justice among parents and babies less likely to be burdened with birth defects that could have been prevented."
A Scottish government spokeswoman said: "We support the fortification of flour with folic acid as a way of reducing neural tube defects and have written to the UK government as any such measure would be easier introduced, and provide benefits, across the United Kingdom.
"In the absence of a positive response, Food Standards Scotland (FSS) have been asked to provide advice around fortification of flour with folic acid on a Scotland-only basis, and that is expected soon."