Union suspends two days of strikes at colleges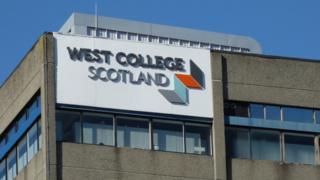 A union has suspended two days of strike action over pay in colleges in what it says is an attempt to bring the employer back to the negotiating table.
Unison has urged college staff to reject the "divisive, unfair" offer made by Colleges Scotland earlier this month.
Support workers at 20 further education institutions walked out in September.
It forced the cancellation of classes and campus closures at West College Scotland and New College Lanarkshire.
The union has called for support staff, who include catering and cleaning workers, classroom assistants and technicians, to have "fair pay and a parity of pay increase with their lecturing colleagues".
That would involve pay rises of at least £450 to match those given to teaching staff.
Unison held talks with Colleges Scotland at the conciliation service Acas on 27 October and 2 November, but said it was disappointed with the final offer.