Some heart patients facing 'unacceptable' wait for appointment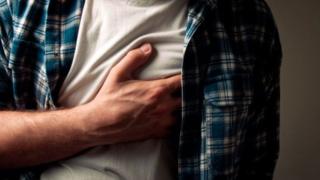 Some heart patients across Scotland are waiting months longer than expected to see a specialist, according to figures obtained by the Scottish Conservatives.
Under Scottish government targets, cardiology patients should wait no longer than 12 weeks for an outpatient appointment after a GP referral.
Figures for April to June showed 1,418 waited longer than that, which the Tories said was "unacceptable".
Ministers said the vast majority of patients were treated within 12 weeks.
Health Secretary Shona Robison said the government was investing £200m to help meet increasing demand for surgery.
'Utterly unacceptable'
The Scottish Conservatives claimed the data - gathered through Freedom of Information legislation - meant one in five cardiology patients was not being seen by a specialist on time.
The party said the figures showed that some people were waiting up to nine months for an appointment.
In the second quarter of 2016 (the most recent figures available), 846 people waited more than 16 weeks before being seen.
Scottish Conservative health spokesman Donald Cameron said: "We know all too well the problems caused by heart disease across Scotland.
"Yet despite the warm words from the SNP, cardiology patients are waiting months to see a specialist.
"This is utterly unacceptable. It's outrageous to think someone could be referred by a GP for a heart problem, then have to wait up to nine months to actually clap eyes on a specialist."
The figures showed:
In NHS Ayrshire and Arran, 34.9% of heart patients were not treated on time, with the longest wait 262 days.
In Grampian, 37.1% missed the target, with a longest single wait of 224 days.
In Tayside, 33.5% missed the target and 276 days was the longest wait.
Mr Cameron added: "We need to see urgent action to turn these statistics around, and improve cardiology care right across the country."
Responding to the figures, Health Secretary Ms Robison said: "More than nine in 10 cardiology outpatients are treated within 12 weeks.
"But we want to go further. That's one of the reasons we're investing £200m to create a network of new elective centres across Scotland.
"These centres will enable people to be treated more quickly for planned surgery and help meet increasing demand."