Catholic Church in Scotland accused of 'ignoring' abuse report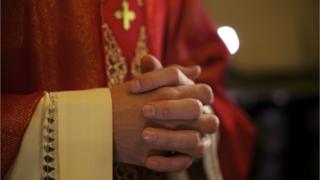 The Catholic Church in Scotland has denied claims that it has failed to implement changes after the publication of a report into child abuse.
In August 2015, Dr Andrew McLellan made a raft of recommendations following a review into abuse allegations connected with the church.
He said that since then bishops seemed to be "ignoring" his findings.
However, the Catholic Church said it accepted his recommendations and that they would be implemented in full.
Dr McLellan, a former Church of Scotland moderator, was tasked with coming up with proposals aimed at making the Roman Catholic Church in Scotland "a safe place for all" in January 2014.
After taking evidence from victims, he urged the church to introduce independent safeguards to deter abuse and to be transparent with their reforms.
However, in a letter to The Herald newspaper, he said he had been frustrated and disappointed with the lack of progress and that the church was in danger of "confirming the worst fears of survivors and observers by appearing to ignore this report".
'Absence of priority'
He said a lack of transparency about their implementation of his report's recommendations could undermine the church's efforts.
He told BBC Scotland: "I am disappointed for all of the good things that appear to be happening, that there's been no attempt to communicate to the people of Scotland and to survivors.
"The absence of priority to survivors weakens whatever reforms they are making to our recommendations."
However, responding to Dr McLellan, assistant general secretary of the Bishop's Conference of Scotland, Father Tom Boyle said the commitment to implement the recommendations had "not diminished in any way" and that "every recommendation would be implemented".
He said that three months after the publication of Dr McLellan's findings, Bishops had published a detailed implementation plan, describing how all of the recommendations would be acted upon.
The church said that an independent review group - as recommended by Dr McLellan - was also being established, with the group's first task being to review the progress of the first 12 months of the implementation plan.
Fr Boyle said: "Transparency and openness are at the heart of the church's safeguarding mission."
He added: "In releasing his report last year, Dr McLellan described the Bishops' decision to ask a minister of the Church of Scotland to carry out this review as demonstrating 'ecumenical trust' and 'generosity of spirit'.
"Since the church allowed Dr McLellan two years to write his recommendations without comment, it is to be hoped that the in the same spirit of trust and generosity of spirit, the church will be given at least the same amount of time to implement them."