Police Scotland made 3,000 serious crime arrests last year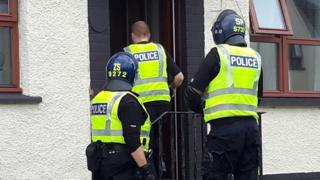 Almost 3,000 people known to be involved in serious organised crime were arrested in Scotland last year, a report has revealed.
Serious Organised Crime Task Force (SOCTF) also said almost £9m was taken from people and companies involved in crime.
And almost £7m of fake cigarettes, clothing and cosmetics were seized.
The report said it believed there were 196 serious organised crime groups operating in Scotland.
The majority - 67% - operated in the west of Scotland, with 22% in the east and 11% in the north.
'Emerging threats'
Two-thirds of the criminal gangs are involved in drug crime, with cocaine the most popular, followed by heroin, cannabis, tranquilisers and amphetamine.
Many are also involved in crimes regarded by police as being "emerging threats", including cyber crime, human trafficking and fraud.
The report highlights the link between counterfeit goods and organised crime gangs operating in Scotland, several of which are said to be involved in drug and human trafficking, as well as child sexual exploitation.
SOCTF also said 66% of serious crime groups are involved in seemingly legitimate businesses, including pubs and clubs, restaurants, building and construction firms, shops, garages, taxis and nail bars.
About 720 such businesses have been identified.
Police, prosecutors, HM Revenue and Customs and other organisations pool their resources and intelligence in the Serious Organised Crime Task Force.
They want to raise awareness of the link between fake goods and serious organised crime, particularly in the run up to Christmas.
'Police raids'
Justice Secretary Michael Matheson said the threat from serious organised crime was continuing to evolve, with the authorities adapting their approach to try to meet these emerging threats head on.
He added: "Tackling organised crime is about much more than police raids and court trials.
"We need to work collectively, in our communities to tackle the harm caused by serious organised crime, to stop the cycle of deprivation and, crucially, give those involved in these activities the chance to turn their lives around.
"With the right education we can prevent people, including our young people, from being recruited into a life of crime."