Scottish veterans need 'more help' to find jobs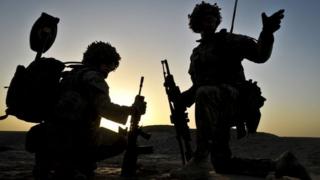 Veterans of the armed forces should be given more help to find meaningful employment after they have left the services, according to a report.
Scotland's Veterans' Commissioner said employers could benefit from the talents and skills of former servicemen and women.
Eric Fraser, published 19 recommendations in his report.
They include an employability pilot scheme and a plan to increase the number of veterans at colleges.
The report also highlights a number of examples of good practice across the country, including Police Scotland, which has a recruitment team that specifically targets veterans.
Early service leaver Gordon Latto, now a sergeant in Police Scotland, said: "The police force is an excellent career for a veteran to move into upon leaving service.
"Veterans have a strong work ethic, good leadership, discipline and problem solving skills learned in the military that are all easily transferable into the role of a police officer."
Police Scotland also has "veteran champions" that help mentor and guide veterans in the force.
Other recommendation in the report include a Scottish government review how veterans could be used to fill skills gaps in sectors like education, health, IT and engineering.
Ministers should also work with employers to find ways of offering more work placements to service leavers, the report recommends.
Mr Fraser said: "The veterans community possesses an impressive set of skills and personal qualities that can be so valuable in the workplace and in our communities.
"There are already opportunities across many sectors in Scotland but more can - and should - be done to maximise the undoubted potential of this group."
"The overall skills and educational achievements of service personnel are improving and we need to ensure that across Scotland we are making the most of these talented people when they leave the military."
A Scottish government spokeswoman said: "We welcome the Scottish Veterans Commissioner's new report on employability, skills and learning. The commissioner was appointed for this very reason - to help us identify issues for us to address.
"The report focuses on removing barriers to employment and improving opportunities for the veterans community, including the role of further qualifications and developing additional skills.
"We are committed to ensuring the best possible outcomes when moving into the civilian workplace, and will fully consider the report's findings and recommendations."