Scary Monsters, Super Sales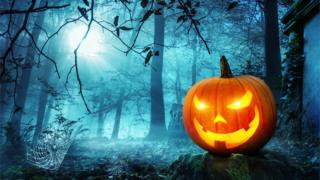 You may recall Linus, a small boy with a very strong attachment to his security blanket, and a friendship with the kindergarten philosopher Charlie Brown.
The cartoon artist Charles M Schultz took Linus back each year to the pumpkin patch.
He would wait there long after dark in the hope of witnessing the arrival of the Great Pumpkin.
Said vegetable never arrived. That was the point, I think.
But several decades after this puzzling insight into an American Halloween, it's now clear that Linus was looking in the wrong place. He should have gone down to his local shopping mall.
This century, the Great Pumpkin has truly arrived in retail. In the US, expenditure is expected to hit $8.4bn this year.
'Trunk or Treat'
The US tradition of Trick or Treat, which owes much to the European traditions such as guising, is reported to be getting less significant. Parents worry about security and all those sugary treats.
That said, buying some "candy" for the kids remains the main source of retailers Halloween income. But the 21st century Linus - with his security blanket or electronic equivalent - is being taken by his parents to a Halloween festival or event, such as a 'trunk and treat'.
That is where families gather with their cars and children go from one spookily-decorated tailgate to the next, in that time-honoured childhood initiation into the basics of a protection racket.
Market analysts estimate that 171 million Americans will spend on Halloween stuff. The average spend will be $83, up from $74 last year. (No, I don't know how they can estimate that with any accuracy, but they do.)
A third of them told market researchers that they started spending on Halloween in September, 5% of them before that.
The National Retail Federation goes on to observe that the big growth has not been in children's spending, but for Millennials. Those aged 18 to 34 have made Halloween their own festival and party time.
This, remember, is the generation that grew up with Harry Potter. Wizardry is a core part of their culture.
And as they live much of their lives in cyberspace, there's peer pressure not to let that party costume become an Instagram disaster. There's nowhere to hide from that. So costume spending has been rising fast.
In Britain, meanwhile, the spend may be proportionately a lot less. But it's a lot more than it was. The great American pumpkin has arrived like an invasive weed and crowded out the humbler turnip lantern.
Only 14 years ago, the estimated spend on Halloween merchandise was £12m. Mintel, the market analysts, reckon it hit £295m last year, and is on course for a modest 5% increase to £310m this year.
It's bigger in spending than Valentine's Day, and trails only Christmas and Easter. Nearly half the population will spend something linked to it.
It has doused Bonfire Night - dampened down as a source of consumer spending in recent years, apparently because of a move towards watching organised fireworks displays.
For those young adults in Britain, Halloween has become the second biggest party night of the year, after New Year. So it's a big opportunity for pubs and clubs, notably on and around university campuses.
Mintel's research suggests quarter of people buy fancy dress, a tenth buy decorations and nearly as many buy food with a Halloween-themed brand.
Another market research firm, Columino, has a higher estimate of total spend, estimating that last year saw £134m spent on Halloween-linked food, £155m on clothing and costumes and £97m on decorations.
Those Halloween brands are not hard to find. They are often re-packaging of familiar confectionery, or soups, to get us in the mood for winter vegetables. Mintel reported that UK product launches for Halloween rose nearly four-fold between 2009 and 2013. Globally, they nearly trebled.
Stretchy sales
One Edinburgh company for which Halloween is the main event of its year is MorphCostumes - the three chums who gave up blue chip professional jobs to the live the dream in full-body Lycra.
The firm has diversified beyond the stretchy one-piece for the male party "peacock". They now make party gear that works for women too, and the stretchy stuff is now designed for children, with suitable fire retardants.
With sales into a US retail chain selling party gear, and also big online, the Morph boys find that around 60% of their sales are in the weeks leading up to Halloween. This year, they've been up 10% on 2015.
But one of the tricky aspects of this for marketers is that the market fashions move quite fast, often driven by social media and film launches.
Skeletons, cats and ghosts remain strong sellers, but MorphCostumes tells us that Harley Quinn, the character from the DC Comics film Suicide Squad, is the best seller in Britain this year.
Star Wars characters remain popular, along with Deadpool, Captain America, Minnie Mouse and Poison Ivy.
Fright wigs
Angel, a long-established fancy dress rental business in London, is quoted this year as saying the most popular items are Donald Trump and Boris Johnson fright wigs.
In the USA, the National Retail Federation notes that superheroes have toppled princesses from the top of the costumes this year.
They helpfully point out to their members that they should beware of gender stereotyping for the young Trick or Treater.
And that goes for pets too. It seems that one in six American consumers is including their pets in this year's Halloween dressing up plans.
Is it just me that finds that really scary?