Norovirus cases rising across Scotland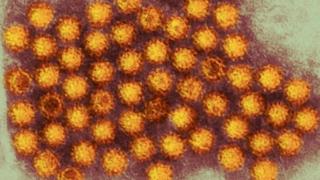 The number of norovirus cases in Scottish hospitals rose from four to 50 in a week, a health body has warned.
Health Protection Scotland (HPS) has appealed to the public to help minimise the spread of the highly infectious virus.
The bug is present all year but becomes more common over winter months when people stay indoors for longer and in larger groups.
It is sometimes known as winter vomiting virus.
HPS figures show just one ward closed in NHS Greater Glasgow and Clyde (NHSGGC) on 17 October, with four patients affected.
This had increased to three wards - two in NHSGGC and one in NHS Lothian - with 50 patients affected by 24 October.
HPS said health professionals across the country would be working to reduce outbreaks of the virus, which often occur in hospitals, schools and nurseries.
---
Norovirus facts
Norovirus occurs all year round and is unrelated to hospital cleanliness
No vaccine to protect against norovirus
You cannot develop lasting immunity to the bug and can catch it more than once
Noroviruses can survive for days on any surface
Source: Health Protection Scotland
---
Lisa Ritchie, a nurse consultant at HPS, said: "To help reduce the risk of outbreaks in hospitals, care settings and the wider community, we are again asking members of the public who think they have norovirus to stay at home until at least 48 hours after any symptoms have stopped.
"As norovirus is so infectious, it is important that everyone plays their part in reducing the risk of outbreaks. To do this, hospitals may suspend access to particular wards to protect patients, staff and visitors from norovirus and to minimise disruption to healthcare services."
HPS said it would continue to monitor the situation and would support NHS boards as required.