Transport Scotland unveil gritter tracker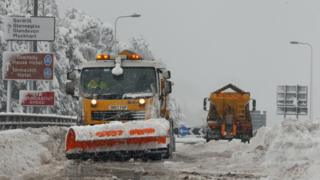 A live gritter patrol app on the Traffic Scotland website will let people see which roads have been treated this winter.
The tracker monitors trunk road patrols and lets people know where and when gritters were active.
The service will go live in November when winter patrols start.
Transport Scotland said it was also investing in its network of 161 weather stations which deliver data to the trunk road maintenance companies.
The service was launched at Glasgow's Science Centre by Transport Minister Humza Yousaf.
"While the storms of the last year were high profile, our teams also continued to battle more traditional winter conditions and we have to prepare for that too," he said.
"Last year we cleared the trunk roads of ice and snow 11,000 times so we have maintained our salt stocks and we have more winter plant available than ever before, with 208 gritters at our disposal.
"We can't deliver this comprehensive service without the input of our partners. The Met Office work alongside us at the Traffic Scotland National Control Centre in South Queensferry and we continue to work with Police Scotland to manage incidents in the fiercest of conditions."