Nice news: Your favourite stories from around Scotland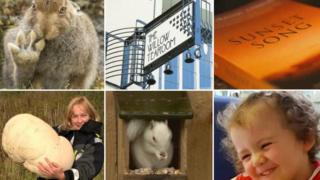 The news isn't always doom and gloom. Here are some of your favourite 'nice news' stories from around Scotland this week.
---
Super funny animals: Cairngorms hare in running for photo award
A photograph of a mountain hare in the Cairngorms raising a back foot as if saying "hello" is in the running for an award.
Photographer Andy Howard spent more than five hours documenting the animal. His picture has made the shortlist for the Comedy Wildlife Photography Awards 2016.
Also on the shortlist is photo of a baby elephant appearing to face plant on a road in Hwange, taken by Markus Pavlowsky, and a meerkat in Little Karoo, South Africa, photographed by Brigitta Moser.
Others in the running are images of a fox diving into snow in Yellowstone National Park, US, by Angela Bohlke and a photograph of a little leopard tortoise jumping onto the back of another tortoise in Tarangire National park, Tanzania, by Brenden Simonson.
---
Almost 50,000 people sign up to donate stem cells in a bid to save three year old Ava Stark's life
Almost 50,000 people have signed up to donate stem cells in a bid to save the life of a three-year-old girl in Fife.
Ava Stark, from Lochgelly, lost out on a life-saving transplant for the second time in four months after a donor pulled out for medical reasons.
She has a rare blood disorder and will die without a stem cell transplant. The donor has to have 10 out of 10 identical genetic markers in order to be a suitable match.
Any relatively healthy adult aged between 16 and 30 can sign up for the painless test through the Anthony Nolan Trust while older donors can register through Delete Blood Cancer (DKMS), which takes people aged 17-55.
Ann O'Leary, head of regional register development at Anthony Nolan, told the BBC Scotland news website they had received more than 16,000 new registrations in just 48 hours.
She said Ava had been "incredibly courageous and positive".
---
Sunset Song by Lewis Grassic Gibbon voted Scotland's favourite book in a poll for the BBC's Love To Read campaign
Sunset Song by Lewis Grassic Gibbon has been voted Scotland's favourite book in a poll for the BBC's Love To Read campaign.
The top 10 novels in the survey included contemporary and classic works by authors born or based in Scotland.
The results of the public vote, conducted by BBC Scotland in partnership with The Scottish Book Trust and The Scottish Library and Information Council, were announced in a special programme presented by Kirsty Wark.
Over the summer, online voters chose from a list of 30 novels which were selected by a literary panel curated by the Scottish Book Trust.
'Beautifully written'
First Minister Nicola Sturgeon championed Sunset Song as her favourite novel in Monday evening's programme.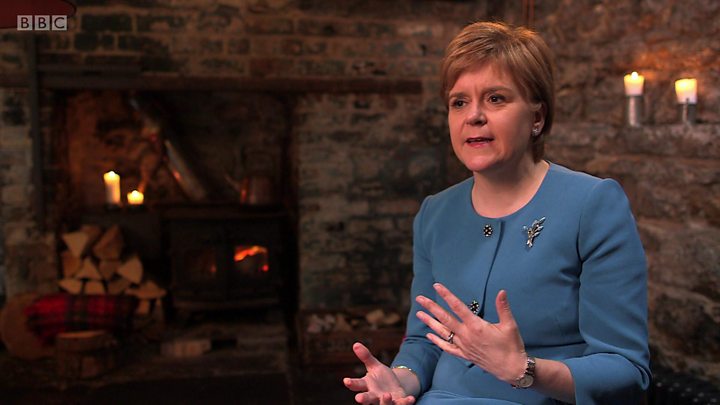 She said: "I first read Sunset Song when I was in my early teens, so maybe 13 or 14.
"It resonated with me firstly because it is a wonderful story, beautifully written, but it also said something about the history of the country I grew up in and it resonated with me very strongly as a young Scottish woman, and I think its themes are timeless to this day."
---
A family of rare white squirrels are living in a suburb of Edinburgh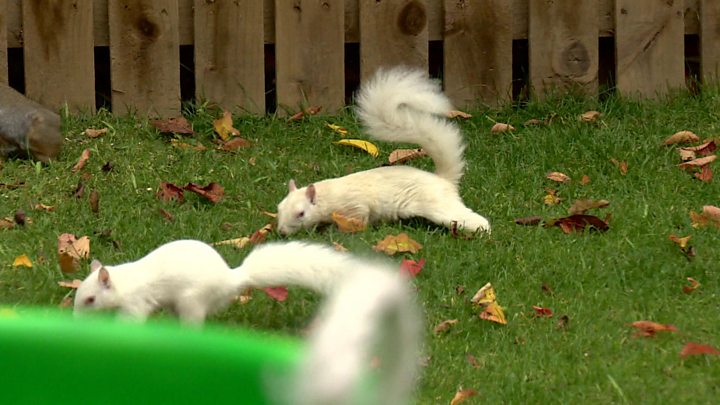 Grey squirrels are one of the most common woodland animals. Their cousins, the red squirrel are much rarer.
But have you ever seen a squirrel that's completely white?
A family of them has moved into a garden in a suburb of Edinburgh.
---
Free trams for Edinburgh's Hogmanay partygoers
Edinburgh Trams will be free for revellers trying to get home after the New Year celebrations.
The free late-night trams will run from midnight on Saturday 31 December until 05:00 on Sunday 1 January.
The service will run every 20 minutes between West End Princes Street and Edinburgh Airport, with all trams stopping at Ingliston Park and Ride.
There will also be a free Hogmanay night bus service provided by Lothian Buses and supported by Diageo.
Edinburgh's Hogmanay, which is produced by Unique Events on behalf of the City of Edinburgh Council, expects another sell-out three-day festiva. Last year 150,000 visitors from over 80 countries enjoyed the celebrations in Scotland's capital city.
---
Countryside ranger finds enormous puffball mushroom weighing almost two stone near Polmont
A countryside ranger discovered an enormous puffball mushroom weighing almost two stone.
Fiona Wishart, a ranger with Falkirk Council, found the 1st 9lbs (10.6kg) mushroom as she did her rounds at a site near Polmont on Monday.
She needed help from a colleague to carry the 1.5m (59in) circumference mushroom back to their office inside a coat.
They later cut up the mushroom and shared it between 15 people, who took it home to cook.
Fiona said: "It was really exciting as it's probably the biggest puffball I've ever found in my life."
The largest British specimen ever measured was 162cm (64in) in circumference, according to the Royal Botanic Gardens Kew website.
---
Charles Rennie Mackintosh cutlery to be auctioned to help restore historic tea rooms
A silver fork and spoon designed by Charles Rennie Mackintosh are to be auctioned to help restore tea rooms which he also created.
The items, valued at £15,000-£20,000, were part of a 12-place setting of dining cutlery dating from 1902.
Proceeds from the auction will go to The Willow Tea Rooms Trust in Glasgow.
---
Get more news from around Scotland by following BBC Scotland News on Facebook, Twitter, Instagram, Snapchat and Pinterest.