Brexit: flexing the work visa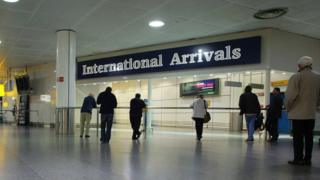 Business is already complaining about skill shortages. That's with slow economic growth and while it has freedom to recruit from across the European Union. So the prospect of Brexit closing the door to free movement across Europe is alarming the business lobby groups.
As with so much about Brexit, they don't know if that's what is going to happen. The past few weeks have seen the departure of many seasonal agricultural workers, wondering if they should be seeking work in another EU country for future work.
Business is looking for some guidance too, and in the absence of a plan from Whitehall, an interesting idea has been floated by the City of London Corporation. It's one that would have big implications for all the nations and regions of the UK.
City fat cats
The corporation is the strange beast - its historical roots lost in the London fog - which runs, represents and polices the Square Mile financial district. It is a lobby group for London finance, with foreigners making up 32% of the area's workforce. Within that, 12% are EU nationals.
So it has a big interest in ensuring that the future policy for issuing work permits isn't driven by the immigration fears of Brexit-voting regions outside the capital.
It commissioned PwC to come up with a plan which fits with Brexit, as hard as the government might choose it to be, while giving more input for subsequent migration policy.
Rather than seeing it framed as the fat cat City financiers looking after their own interests, it is being promoted as a form of regional policy, allowing Whitehall to help grow the nations and regions by selective allocations of regional visas.
The idea is that nations and regions could put devolved or local administrations together with regional business groups to identify their skill needs and how many workers are needed from overseas. They would arrive at quotas for particular industries - both short term and longer-term - and possibly leading to a right to apply for full-time residency.
Lucrative students
To appeal to Whitehall, the PwC plan then requires an application for an allocation of such visas from UK Visa and Immigration (UKVI).
An alternative plan is more centralised, with skill needs identified through direct links with UKVI.
While it would help maximise business and economic growth, it could be sold to a migration-sceptic public as a friendlier, more targeted, more responsive and more localised form of migration.
Something similar has been called for by Scottish politicians for some years, responding to bigger demographic challenges than England.
The effort to allow for a de-centralised non-EU work permit regime was begun when Labour and Jack McConnell were in power at Holyrood.
That got as far as a Fresh Talent Initiative, allowing graduates from Scottish universities to remain and work in the UK for up to two years. But under the more hawkish immigration regime controlled from Theresa May's Home Office, that was ended in 2012.
Universities continue to say that the lack of a temporary graduate work permit option puts them at a disadvantage in the competitive market for attracting lucrative non-EU students.
The top institutions in England are being told they might get special measures put in place. There was a hint on Thursday that students could be removed from immigration targets, though that was quickly stamped on by Number Ten.
Inspectorate checks
One of the objections raised when Holyrood has asked for special measures has been that work permits are not regional. The PwC answer: make them so.
The plan would be for a visa allowing the migrant worker only to work and live in the nation or region identified. To move to another region, the employer would have to apply for a change of visa conditions.
That would require some policing, with inspectorate checks. Employers are already facing them for non-EU employees.
The trickier issues would be around visas for family members, and the rights of partners to work. PwC's migration experts also concede that some work secondments within multi-national companies are to boost diversity and give staff wider experience, without that being a response to skill shortages. That would not be addressed by the proposed system either.
It's an interesting start. It's presented in a way that's intended to go with the grain of what the UK government is trying to do post-referendum, whereas most business comment has been to complain about the implications and lack of clarity.
And it suggests that the Scottish government could find allies in unexpected places in its push for further devolved powers arising from the Brexit process.