More than half of Scottish fire calls are false alarms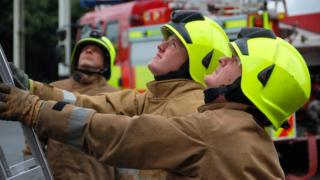 More than half of the incidents firefighters are called out to are false alarms, according to new figures.
A report by the Scottish Fire and Rescue Service revealed that its staff were called out to more than 26,000 blazes across the country in 2015/16.
It said that 45 people died in fires, four more than last year.
And it found that most false alarms were due to automated alarm systems - but more than 2,000 call-outs were hoax calls.
Its statistics show that the malicious calls are increasing, up from 2,058 in 2014/15 to 2,375 last year.
A total of 5% of false alarms were malicious while 77% were due to automatic calls from fire alarms or equipment.
Injured survivors
It reported that the fire fatality rate in Scotland in 2015/16 was higher than England and Wales at 8.4 deaths per million of population, compared with 5.5 and 6.1 respectively.
The service warned the relatively small numbers involved make the fire fatality rate "a volatile measure" and added that in the past decade the rate had been higher in Scotland than the rest of Britain.
The report showed that the number of injured survivors of fires increased by 14% from 1,101 in 2014/15 to 1,256 the following year.
The number of fires attended across Scotland also increased in the same period, up 6%, or 1,588 incidents, to 26,613.
The number of fires attended has fallen by 45% in a decade but the fire rate per million of population in Scotland in 2015/16 - 4,953 - is almost 2,000 higher than England at 2,598 and higher than Wales (3,908).