Nice news: Your favourite stories from around Scotland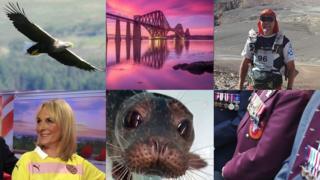 The news isn't always doom and gloom. Here are some of your favourite 'nice news' stories from around Scotland this week.
---
Forth Bridge voted Scotland's greatest man-made wonder
The Forth Bridge has taken the top spot as Scotland's greatest man-made wonder in a poll by VisitScotland
The 126-year-old structure took nearly a third of the votes in the survey to mark Scotland's year of innovation, architecture and design.
On our Facebook page Junie Pebbles said: "All stunning! I agree that the Forth Bridge takes the number one spot - it's awe inspiring given the engineering involved back when it was built."
Also on the list were Edinburgh Castle, The Kelpies and the Glenfinnan Viaduct.
---
BBC Breakfast's Louise Minchin swaps her Battenburg 'cake dress' for Jam Tarts top
Louise Minchin donned a Hearts strip on the BBC Breakfast sofa after the club sent her one of their eye-catching primrose and pink away tops.
The presenter gathered a bit of attention last month when she a wore pink, yellow and black dress - dubbed by some as "looking a bit like a Battenburg".
The strip pays tribute to the racing colours of the 5th Earl of Rosebery, which have also been used by the Scotland team.
Louise tweeted her thanks to the Edinburgh club. Her Breakfast co-host Dan Walker was not left out with a matching pink and yellow tie.
---
Pup Ollie is first patient at new seal hospital in Oban
Seal pup Ollie has become the first patient at a new hospital to care for injured seals in Oban.
The six-week-old was found exhausted and suffering from seizures on a beach
Ollie was taken into the care of Oban Sea Life Sanctuary's new hospital and received glucose injections to increase his weight.
Rescuer Farrah Minchin said: "Before long the pup was bright and alert and ate almost half a kilo in one go."
---
Gulp! Baker uses insects as cake ingredients
An Edinburgh baker is attempting to take the "yuck factor" out of eating insects by grinding them into flour and making them into cakes.
Cyril Barthelme, 26, of Patisserie Maxime has made sponges from scorpion flour, brownies from ground up crickets and even a tarantula cake or two.
Mr Barthelme said he wants to raise awareness of alternatives to meat and help change attitudes.
Not everyone is convinced. Margaret Cormack commented on Facebook: "Things would have to get desperate before I could eat that."
---
Sea eagle numbers predicted to soar
Numbers of white-tailed eagles, also known as sea eagles, could rise from 106 to 221 pairs of birds in less than 10 years.
There have been three release phases to re-establish the large bird of prey, which became extinct in Scotland in 1917.
There were two releases on Scotland's west coast - on Rum from 1975 to 1985 and in Wester Ross. The third release was in Fife from 2007 to 2012.
---
Oldest man survives Atacama Crossing desert race
Donald Sandeman, 59, from Edinburgh has become the oldest man to complete the Atacama Crossing.
The 155-mile (250km) seven-day footrace is branded as the "ultimate test of human endurance".
It crosses Chile's Atacama Desert - the driest place on Earth - in a harsh climate at an altitude that averages 8,000ft (2,500m).
Retired policeman Donald carried his clothes, sleeping bag and all his food for a week before crossing the finish line at San Pedro de Atacama. He came in 38th overall.
---
Armed forces veterans in Scotland to receive £600,000
Organisations in Scotland supporting veterans will be able to apply for a share of £600,000 funding over the next three years.
The Scottish Veterans Fund helps projects provide services in areas such as employment, housing, and well-being.
Veterans Secretary Keith Brown said the Scottish government had pledged £360,000 - its largest contribution yet.
The fund will open for applications this autumn.
---
One of Scotland's oldest luxury cashmere brands to be revived
The J&D McGeorge cashmere brand is being revived in Hawick bringing 20 new jobs to the town.
The town's Langlands Mill site will return to its original use as a textile factory.
The brand has its history in Dumfries with a mill on the town's St Michael Street which operated until the early 1990s.
A J&D McGeorge spokesman said they are delighted to revive the brand aimed at "top-end couture houses around the world."
---
Get more nice news from around Scotland by following BBC Scotland News on Facebook, Twitter, Instagram. Take a look at our new boards on Pinterest too.