Resolution Foundation predicts slow reduction in low pay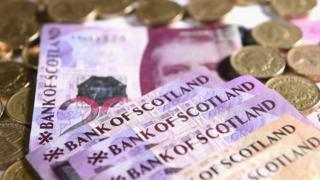 Scotland is forecast to have 400,000 low-paid workers in 2020, despite the UK government's introduction of the National Living Wage.
The Resolution Foundation has estimated that the number of Scots in poorly-paid employment will fall from the current total of 470,000.
Employers are now required to pay all staff aged 25 and over a minimum of £7.20 an hour.
The think-tank expects this to rise to £7.50 an hour in April 2017.
The new rate is expected to be announced in Chancellor Philip Hammond's Autumn Statement in November.
Conor D'Arcy, policy analyst at the Resolution Foundation, said "The National Living Wage is set to transform Scotland's low-pay landscape. But it won't eradicate the problem altogether - Scotland will still have 400,000 low-paid workers in 2020."
'Much uncertainty'
The UK government brought in the National Living Wage (NLW) from April 2016.
A 30p increase in the hourly rate could see workers receive an extra £600 a year, but the Resolution Foundation warned post-Brexit uncertainty makes it unlikely that previous forecasts that pay will reach £9 an hour by 2020 will be met.
Mr D'Arcy said: "While there is much uncertainty over Scotland's economic outlook, its highly likely that wage growth will be weaker than expected prior to the referendum. This means we're unlikely to see a £9 minimum wage that (former chancellor) George Osborne talked about by 2020, though low-paid workers are still set for four years of big pay rises."
He added: "As we approach the Autumn Statement we'll soon learn what the NLW will be next year. An increase to around £7.50 will deliver a welcome annual pay rise of up to £600 for full-time staff. Though that's less than the £800 raise previously forecast, it's sensible that the size of the National Living Wage rise adjusts in line with wages of typical workers.
"This flexibility means that calls from some businesses to scale back the NLW even further are wide of the mark."
Ambitious announcements
He said it was clear that the National Living Wage was set to transform low pay across Britain. But he added that ambitious policy announcements needed equally ambitious implementation plans to make them a success.
"With over four million workers set to be earning the new legal minimum by 2020, ministers need to work closely with employers to ensure that they're not just able to pay the legal minimum, but can offer staff a route out of low pay altogether," he said.
A Scottish government spokeswoman said tackling low pay and making work fairer were key priorities.
She said: "Through our work with the Poverty Alliance, the Scottish government is actively promoting that employers pay the Living Wage promoted by the Living Wage Foundation - which is more than the National Living Wage.
"In Scotland, we have a higher proportion of employees paid the living wage than anywhere else in the UK outwith the South East of England and London, with over 80% of employees now receiving at least the living wage.
"The Scottish government has reached our target of 500 businesses becoming accredited living wage employers - and have set an even more ambitious target of 1,000 businesses by autumn 2017."
Scottish Labour economy spokeswoman Jackie Baillie said: "We need to see much more action from the SNP and Tory governments in dealing with the aftershocks of Brexit, particularly in ensuring good quality jobs, which is the key to lifting more people out of low pay.
"The Tories' reckless Brexit gamble is set to hit the poorest hardest, so we need action now. That is why Labour called for an increased investment in housebuilding to stimulate the economy, a living wage guarantee in public contracts and further investment in education so we can compete for the high skill, high quality jobs of the future."