Police Scotland told to focus on local communities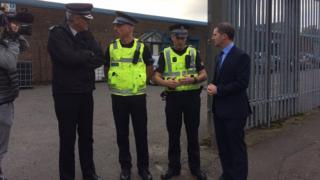 Police Scotland should focus on understanding the needs of local communities and keeping them safe, according to the Scottish government.
"Localism" is one of seven strategic priorities which have been set by ministers for the force.
The priorities were revealed as it was confirmed that eight police stations in Dumfries and Galloway have been earmarked for potential closure.
It is part of a strategy which could affect the police estate nationwide.
The priorities, which were launched by Justice Secretary Michael Matheson, are designed to give Police Scotland a broad strategic direction.
'Times of crisis'
The government said they were drawn up to ensure the police service was "increasingly resilient, flexible, responsive and locally-focused."
Chief Constable Phil Gormley welcomed their publication. He said: "Policing in Scotland, which is built on a really solid foundation and traditions that are the envy of many, needs to be locally relevant and have the confidence of our communities.
"We also need to ensure that the protection communities require to tackle emerging threats and risks is available where and when required.
"The majority of what officers and staff deal with on a daily basis, around the clock, every day of the year relates to calls for service - people calling us at a time of crisis and need and we need to make sure we respond by having the strategic priorities set out today at the heart of what we do and how we do it."
It was also praised by Cosla representative councillor Harry McGuigan, who said the organisation was "particularly pleased to see the clear emphasis on localism".
However South of Scotland MSP Colin Smyth said plans to close police stations in Dumfries and Galloway was more evidence of centralisation by the force.
Police offices in Whithorn, Moffat, Dalry, Kirkcudbright, Dalbeattie, Gretna, Thornhill and Langholm are under threat and their futures will be subject to a public consultation.
Chief Superintendent Gary Ritchie, local policing commander for Dumfries and Galloway, said some of its existing estate was not "modern, flexible or fit to meet the future policing needs of our communities".
He said the proposal would not affect staffing levels in the region and only underused and under-utilised police-owned buildings were being considered.
The move comes two years after around 60 police stations across Scotland closed their front counters to the public.
Mr Smyth said: "One of the reasons why the use of some of the police stations is being cut is because the police themselves have actually closed public counters so if the public can't go in and speak to the police in some of our police stations, then of course the use is going to be reduced.
"In many ways it's closure by stealth."