Andy Murray 'stalked' by arm-stroking maid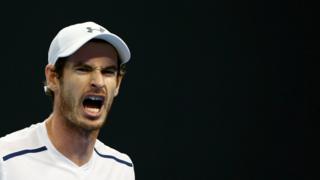 Tennis star Andy Murray has described the moment he woke up in a hotel room to find a maid stroking his arm.
Murray said he was staying in a hotel during a tournament and had a "do not disturb" sign hanging on the door.
"She came in and sat on my bed and started stroking my arm at about seven in the morning when I was still sleeping," he told the International Premier League Tennis (IPTL) website.
The woman later turned up at other tournaments he was playing at.
The Wimbledon, US Open and Olympic winner had been asked by interviewer Anusha Dandekar what the "craziest thing" a fan had said or done to him.
He told Ms Dandekar: "[The maid] then turned up at a couple more tournaments in the hotels I was staying at - in Rotterdam and Barcelona.
"I don't know if that's a fan thing? That's a bit extreme, but that happened."
Murray also told the IPTL that his dream doubles partner from any era would be Serena Williams or Steffi Graf and the tennis star's one-word description of himself was "sarcastic".
When the Scot was asked whether he had the "dry English humour", he answered: "Er, I would say so."
The 29-year-old, who is currently ranked number two in the men's singles world rankings, named Halle Berry as the most gorgeous person in the world after his wife and revealed that he hates all sports movies.
He also admitted to buying an expensive Range Rover with some of his early tennis earnings - even though he couldn't drive it.
"I bought a Range Rover which I couldn't actually drive because I didn't pass my driving test till I was 22," he said.
"But my girlfriend drove it for me and for herself."