Bits & Pieces to replace 500 Miles as Scotland goal song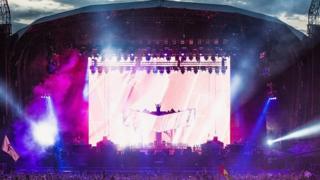 A 1990s rave anthem will be the new goal song at Hampden for Scotland's 2018 World Cup qualification campaign.
Bits & Pieces was picked over The Proclaimers (I'm Gonna Be) 500 Miles, which has traditionally been played over the PA when Scotland score.
The rave classic, originally released by Artemesia in 1995, also beat The Fratellis' Chelsea Dagger and the option of no music in a Twitter poll.
More than 20,000 people voted in the Scottish FA (SFA) survey.
The SFA said Bits & Pieces had received an "overwhelming" 49% of the vote, with 20% choosing 500 Miles and 18% opting for no music at all.
Just 13% of those who voted wanted to hear Chelsea Dagger when Scotland score at Hampden.
The SFA also confirmed Clyde 1 presenter George Bowie would perform a live DJ set before Saturday's match against Lithunania. The set will begin at 18:45 ahead of kick-off at 19:45.
Bowie recently made a remix of Bits & Pieces and gave it to DJ Calvin Harris who played it during his set at T in the Park this year.
He said: "When I saw the poll I thought, 'we don't have a chance here' as we're up against 500 Miles and Chelsea Dagger. After I saw the results I thought 'wow', but Bits & Pieces is a big Scottish anthem.
"We made the remix earlier this year and gave it to Calvin Harris for a laugh, not thinking he would play it. When he did, the crowd went wild.
"I want to see a winning celebration from the players to Bits & Pieces."
However, some Twitter users responding to the SFA's poll were bemused at the choice.
One of those responding to the the SFA's Tweet suggested the theme tune to children's classic Rhubarb and another said the Laurel and Hardy music would be a better choice.
Another Scotland fan tweeted: "I don't even know what that is. Let Hampden Roar! No music!"