Half of Scotland's adults say they are not religious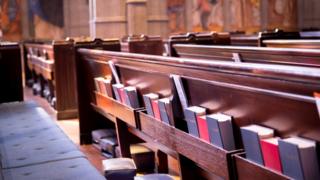 Half of adults in Scotland say they are not religious, according to new statistics.
The latest Scottish Household Survey reveals that 49.8% of those surveyed said they did not have a religion - up from 40% in 2009.
There was also a fall in the number of people aligning themselves with the Church of Scotland, from 34% in 2009 to a quarter of people last year.
The wide-ranging annual survey provides a snapshot of life in Scotland.
The Church of Scotland said it recognised the "changing nature of faith, belief and spirituality" in Scotland and it was seeking to adapt.
Rev Dr Richard Frazer, minister at Greyfriars in Edinburgh said: "It is recognised that people express an openness to faith and spirituality without feeling it necessary to tie that into affiliation to a church or other recognised faith based organisation.
"Many of the initiatives of the Church of Scotland over recent years have sought to meet people where they are, rather than expecting everyone to come to the church."
The Scottish Household Survey also reported an almost three-fold increase in the number of households in the private rented sector since 1999.
And it found that more than half (55%) of households had savings in excess of £1,000 - increased from 43% in 2009.
Other highlights include:
There were 2.43 million households in Scotland in 2015 - up from 2.19 million in 1999;
Around 61% of homes are owner-occupied;
More than half (56%) of adults rated their neighbourhoods as very good places to live;
Around a fifth of single parent and single adult households said they do not manage well financially;
Eight in 10 adults had taken part in sport and exercise (including recreational walking) in the past four weeks;
Half of adults (50%) viewed climate change as an immediate and urgent problem;
About nine in 10 adults (92%) were "culturally engaged".
The survey has been carried out since 1999.
It is designed to provide reliable and up-to-date information on the composition, characteristics, attitudes and behaviour of households and individuals.