Scottish councils make progress on waste recycling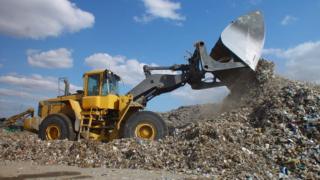 Local authorities have recycled 44.3% of the household waste collected in 2015, according to the Scottish Environment Protection Agency (Sepa).
The official figures indicate the proportion has increased from the 42.8% recorded in 2014.
Household waste sent to landfill amounted to 1.14 million tonnes, down by 72,000 tonnes on the previous year.
Environment Secretary Roseanna Cunningham said it showed progress towards minimising climate change.
Since 2011, the weight of household waste going to landfill has fallen by 21.6%.
Ms Cunningham said: "Across Scotland in 2014, the amount of waste we sent to landfill fell below 50% for the first time and here we see that downward trend continuing, which is great news for our action on climate change.
"But we do need to see more progress. With 17 local authorities now signed up to the Household Recycling Charter, we are well on the way towards a more consistent approach to recycling, which will making it easier for people to put the right things in the right bin.
"I would encourage all councils to sign up to the Charter, and access advice and support from Zero Waste Scotland."