RMT union claims 'major victory' in ScotRail dispute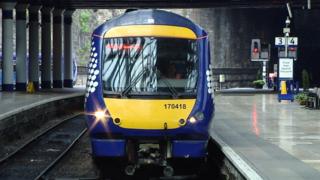 A rail union has claimed a "major victory" in a dispute which led to strikes across Scotland's rail network.
The RMT union said it has reached an agreement with ScotRail which protects the "safety critical" role of guards on trains.
It added that the RMT's executive had endorsed the deal and recommended that members accept it in a ballot.
Earlier Phil Vester, head of the ScotRail Alliance, said it was a "win-win" situation for both sides.
The train operator announced on Monday that it had reached an "in-principle" agreement with rail unions to bring the dispute over driver-only operated trains to an end.
It followed several days of strikes over the summer.
'Continuing campaign'
The RMT said the agreement marked a "major breakthrough in the battle against driver only operation".
In a letter to members, the union's general secretary Mick Cash said: "This is more than just a victory for ScotRail it is a victory for the defence of the role of the guard and a step forward in our continuing campaign against driver only operation.
"This agreement will be welcomed by passengers and members alike."
He added: "This agreement guarantees a guard on every new electrified train and that the conductor will retain their full competency (rules, track safety, evacuation).
"In addition ScotRail confirm that trains operating these services will not run without a competent conductor on board."
Earlier Mr Verster told BBC Radio Scotland's Kaye Adams programme that the agreement with rail unions was a "win-win" situation for both sides in the dispute.
New fleet
He said: "Yesterday we reached agreement with both the Aslef and RMT trade unions on a way forward with regard to how doors will be operated on our new trains that are getting delivered next year.
"That will have to go through a process of referenda with their respective members to get final approval, but we think we are there with an agreement that's a win-win for both parties.
"Once every 40 years, when you introduce new trains you have an opportunity to make a change in the operating practices for the fleet, so we had to explore what was possible with our new fleet coming in next year.
"And so in the end it's a compromise, and it's a win-win for both parties and we are now keen to just focus on the future and how we continue to transform and improve Scotland's railways for our customers."
Asked whether there could be further strikes on the issue, Mr Verster said: "With the agreement we reached yesterday, I don't foresee any strikes from this point onwards on this issue."