ScotRail and RMT 'in principle' agreement in trains dispute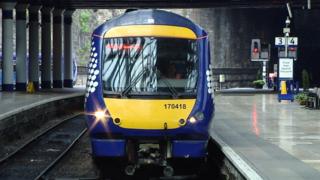 ScotRail said it has reached an in-principle agreement with the RMT union to bring to an end a dispute over driver-only operated trains.
The company said the agreement included a guarantee that a conductor would be retained as the second member of staff on board new trains being rolled out next year.
The dispute led to several days of strikes over the summer.
Further industrial action was suspended last month for more talks.
ScotRail said the RMT would now present the proposal to its members in a company-wide vote.
The company said discussions had also taken place with Aslef, the train drivers' union, and a similar in-principle agreement reached.
The RMT said it would make its position clear once the proposed deal has been discussed by its national executive on Tuesday.
ScotRail Alliance managing director Phil Verster said: "I am pleased that we have reached an in-principle agreement with the RMT and Aslef unions that, if formally agreed, will bring this dispute to an end.
"This will end the uncertainty for our people and our customers, and will allow us to concentrate on delivering the best possible service for Scotland, every single day.
"What we have put forward in our proposal will make our service more efficient and more effective while maintaining and enhancing the service we provide to our customers.
"It means that the new faster, longer, greener trains that will arrive in autumn next year really will be a revolution in how we deliver our service."
An RMT spokesman said: "After long hard hours at the negotiating table, and a sustained period of determined and solid industrial action involving our members, RMT's team will be reporting back to the unions executive tomorrow where the details will be considered in full.
"A further statement will be issued by the union after that executive meeting."
---
Analysis by Douglas Fraser, BBC Scotland business/economy editor
Both sides in the ScotRail dispute have been a bit coy about the deal that has ended this dispute. "Everybody has got something," says one insider. "It ticks all our boxes," say unions.
So the unions claim victory. They have to get support for that in a membership ballot. It works for Abellio management to go along with that.
What both sides are saying is that they've reached a compromise on control of train doors. On the new Hitachi EMU trains, yet to come into service, the driver will open the doors, and the guard will then have control over their closing.
To the RMT union, that's a safety issue. It also matters that they retain a complement of 560 guards, and they're saying that the status, skills and pay of the guards won't be reduced for the length of the current ScotRail franchise.
So what does Abellio get out of this? It's expecting part-control by drivers will mean less "dwell time" - the stopping time at the station - so as to free up time for the second on-board ScotRail staffer. To do what? Customer service. They're not specifying what sort.
Just as this dispute appears to be reaching a conclusion, RMT last week served notice on Cal-Mac that it's in formal dispute over pay. That's politically sensitive, as the ferries are a lifeline for islands, and because the Hebridean and Clyde ferry operator is wholly owned by the Scottish government.
For both Abellio and Cal-Mac, their franchise bids were based on delivering more efficient operations, so they're under commercial pressure for improved productivity.