Toilets at Celtic Park damaged after Old Firm clash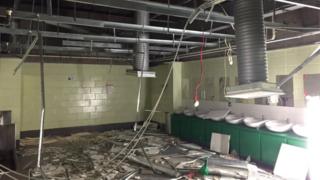 Extensive damage has been caused to a toilet block at Celtic Park after the first Old Firm league derby in Glasgow in four years.
Police Scotland said it was aware of the damage in the away team section of the ground but the club was dealing with it as an internal matter.
Celtic beat Rangers 5-1 after Moussa Dembele scored a hat-trick.
One man was arrested for an alcohol-related offence but police said the majority of fans behaved well.
Pictures of the vandalism showed doors pulled off hinges and ceiling tiles torn down.
There were reports of some disorder in the east end of the city after the game.
Ch Supt Brian McInulty said: "The vast majority of supporters who attended the match behaved in a responsible manner and enjoyed the event.
"A small number of supporters from both sides, who were clearly intent on causing disorder were intercepted by officers in the Gallowgate area, and those officers ensured that no disorder took place.
"There have been no reports of assaults and the situation is under control."