Charity calls for 'more humanity' for Syrian refugees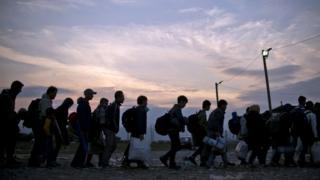 More needs to be done to help keep families together after fleeing from Syria, according to a charity working with refugees in Scotland.
Migrant Voice claims many Syrians are struggling to bring close relatives to the UK lawfully.
The group urged the UK government to treat refugees "more humanely".
The Home Office said the UK had a "proud record" on granting asylum and more than 22,000 family reunion visas were granted over the past five years.
The call from Migrant Voice came as 200 faith leaders urged the prime minister to do more to help refugees from the world's war zones.
Nazek Ramadan, the director of Migrant Voice, said: "We're calling on the government to treat people with refugee status more humanely.
"Tens or even hundreds of refugees are struggling to bring their families in.
"The government is investing lots of time and energy and resources to try and assist Syrians to integrate into the UK but most Syrians cannot integrate if their families are still at war."
---
'I nearly died to be with them'
The Zalagana family have made their home in Glasgow, after fleeing the bombs of Syria.
"There were airplanes bombing and we were in the underground shelter with lots of dust," said 10-year-old Ahmed.
"The planes were bombing and people were dying."
Mother Manal and her five children now have official refugee status. But their father, Khaldoun, does not.
He said he was nearly beaten to death in a prison in Syria and he was rescued from the Mediterranean when the smugglers' boat he was travelling in capsized.
He jumped on to a lorry at Calais in a bid to get into the UK and secure safe passage for his family.
"I nearly died to be with them, to have them with me," he said. "I just can't imagine life without them."
Now Khaldoun is the illegal immigrant and his family, who followed via Turkey, can stay. Manal said she cannot manage without him.
"I can't understand why they wouldn't give him a visa, refugee status here," she said.
"I need him, the children need him. I'm not well but also I have two disabled children. We all need him. I just don't understand the system."
Khaldoun has to prove he is the children's father to get the right to stay with them.
"The government don't believe they're my family," he explained.
"I'm prepared to prove to them to take a DNA test or anything they ask for. I call for help from the government so that I can work and support my family."
---
The UK is committed to resettling 20,000 Syrian refugees through its vulnerable persons resettlement (VPR) scheme over the next five years.
The Home Office said it was unable to comment on individual cases but a spokesperson added: "The UK has a proud history of granting asylum to those who genuinely need it, and every case is carefully considered on its individual merits.
"Our refugee family reunion policy allows a spouse or partner and children under the age of 18 of those granted refugee status or humanitarian protection in the UK to reunite with them here, providing they formed part of the family unit before the sponsor fled their country of origin.
"More than 22,000 family reunion visas have been granted under this policy over the past five years - reuniting many refugees with their immediate family."
Earlier this month, the Scottish government announced Scotland had accepted 1,000 refugees in the last year..
Angela Constance, the cabinet secretary for communities and equalities, said the concerns of Migrant Voice were "very real".
"I myself have written to the Home Office with the Scottish government's concerns about the family reunion process," she said.
"We have to be in the business of keeping families together so we are calling on the UK government to revisit and revise the guidelines of the family reunion programme."
---
'I'd rather die with my children in Syria'
Mohamad Alhawamdeh is entitled to stay in Glasgow but his family in Syria cannot join him.
He said the Home Office said his documents were not sufficient to show they are his wife and children.
"I gave them the photos," he said.
"I gave them the result of the DNA test to prove they are my kids, I also brought a document from the United Nations but I was refused."
He has now spiralled into depression.
"I'd prefer to go back to Syria and die with my children under the bombing than stay without them," he said.
---