Elgin mortuary conditions leave bereaved family distressed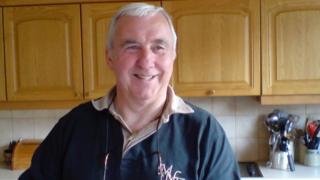 A bereaved family has called for the condition of mortuaries across Scotland to be inspected after their own traumatic experience.
Maryan Whyte said she was left extremely distressed by the state of Spynie Mortuary in Elgin.
Her husband Frank was taken there after he died in a sailing accident in May.
NHS Grampian said it had apologised to Mr Whyte's family and was now using a mortuary at Dr Gray's Hospital in Elgin.
The health board said work was under way to improve Spynie Mortuary, which is on the site of a former hospital that closed 10 years ago.
Following her husband's death, Mrs Whyte said the mortuary failed to provide basic comforts such as a room for loved ones to sit in and say their goodbyes.
The mortuary is used by Police Scotland following unexplained or accidental deaths in the area, and as a back-up to the mortuary provision at the town's Dr Gray's hospital.
Mrs Whyte said: "To think of my husband being in such a place has left me with such a desolate feeling.
"Families who are suffering in difficult and often tragic circumstances should be shown much more compassion than what we found to be the case in Moray.
"It is vital that at such a difficult time, families should have access to a mortuary that is fit for purpose where families can feel comforted and where the deceased are treated with dignity and respect."
Mrs Whyte said she believed mortuary provision across Scotland was poor, and called for the standard of all mortuaries to be checked to ensure they meet the national guidelines.
In an interview with BBC Radio Scotland, she described the mortuary at Spynie as "unkempt" and "rundown" and looked like "an old garage".
There was no place there for her or her family to compose themselves and only seats opposite the trolley her husband was placed on, she said.
Mrs Whyte said: "We decided we really wanted to effect some change on this. People should not have to go through such an experience at such a traumatic time."
She added that two police officers she and her family met at the mortuary were "good, kind and gentle" and there was no complaint against their handling of their situation.
Her 69-year-old husband, from Forres in Moray, had been cruising off Findhorn Bay when the weather suddenly turned and a blast of wind overturned his yacht.
'Basic needs'
Daughter Sharon Robertson, 43, said: "There must surely be a want and desire to provide a mortuary that has the basic needs - a comforting room where you can sit with your loved one and say your goodbyes, a separate room to conduct any interviews needed or to make statements, and at the very least somewhere to sit and compose yourself.
"What we were put through was an appalling disgrace in this day and age."
Their case has been taken up by local MSP Richard Lochhead, who said NHS Grampian had recognised the family's concerns and had decided to stop using the Spynie mortuary for family visits and to make longer-term improvements.
The SNP politician added: "I admire their decision to campaign to have all mortuaries across Scotland checked to ensure they meet appropriate standards and I am taking this forward in the Scottish Parliament."
Pam Gowans, chief officer for NHS Grampian's Moray Integrated Joint Health Board, said the health board had apologised to Mr Whyte's family.
He said: "Once we were contacted by Mrs Whyte and her daughter we apologised and acted promptly with our partners in Police Scotland to ensure there would be no repeat of what was clearly a distressing situation.
"Alternative arrangements were put in place locally, so that loved ones are viewed at Dr Gray's Hospital mortuary and we have been in regular contact with the family concerning their experience and the shape of future provision.
"We are very grateful to the Whyte family for their contribution."