Food and drink sector confident despite Brexit vote, BoS survey finds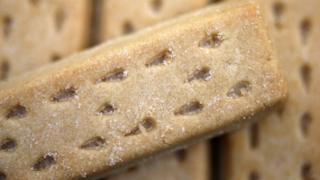 Half of firms in Scotland's food and drink sector expect increased growth despite the Brexit vote, a survey has found.
Bank of Scotland questioned 100 manufacturers for its fifth annual food and drink report.
The research was carried out in the weeks immediately after the EU Referendum.
More than two thirds said they planned on finding new international customers over the next five years.
Further findings indicated high levels of confidence within the industry as firms expect to increase turnover by an average of 24% over the next five years, up 5% on 2015.
Scotland's food and drink sector currently employs around 34,000 people, accounting for 19% of all Scottish manufacturing jobs.
The sector is expected to create more than 14,000 new roles over the next five years.
'Good reputation'
The survey strongly suggests that the sector will be able to build on the momentum of recent years, which has seen Scottish food exports surpass the £1.1 bn mark for the first time, with total food and drink exports valued at £5.1bn.
Taking advantage of the good reputation of Scottish produce in international markets scored particularly highly in the latest survey.
Some 87% of all respondents said they were already capitalising on the reputation of Scottish produce, up from 71% previously.
James Withers, chief executive at Scotland Food & Drink, said: "There is real ambition in the Scottish food and drink sector that, alongside world-leading collaboration between the industry and government, has driven a 40% growth in turnover since 2007.
"The outcome of the EU Referendum is causing some uncertainty around the industry's future workforce and how we trade with Europe, but change is nothing new to the sector, and there will be opportunities too as we build new markets for our produce.
"Food and drink has been a bright spot in Scotland's economic story for nearly 10 years now. This report is further evidence that we have all the ingredients for that to continue."
Jane Clark-Hutchison, from Bank of Scotland, said the industry target of £16.5bn turnover by 2017 seemed "entirely achievable".
She added: "It's incredibly heartening that, just weeks after the EU referendum result, our survey shows that bullish food and drink firms expect to grow, invest, recruit and innovate."