Students' performance at Scotland's colleges slips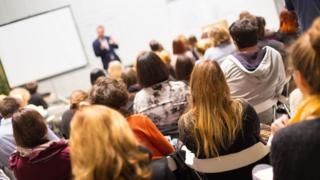 The overall performance of students at Scotland's colleges has slipped, according to a report by the body that provides most of their cash.
The report says there was a 1.9% drop in the performance of students last year.
The figure is contained in a mostly positive report by the Scottish Funding Council (SFC) on college mergers.
Between 2012 and 2014 there were 10 mergers involving 27 different institutions.
Across Scotland, colleges have merged with each other to create a series of so-called "regional super-colleges".
Broadly speaking, there is now one single institution providing further education in each part of Scotland, with operations on a number of sites.
Financial challenges
The main exception is Glasgow - the mergers in the city led to three separate colleges.
The report says: "Overall the implementation and outcome of the merger programme has been a success though we recognise that some colleges are still addressing particular challenges of merger, including financial and operational issues."
There is no suggestion the mergers themselves led to the drop in the 1.9% drop in the performance of students in 2014-15.
Potential explanations suggested by the colleges include:
Concern amongst students about access to bursaries;
Some students starting courses late;
Changes to staffing numbers and structures.
In recent years overall college budgets have been cut significantly and the sector was told to focus primarily on providing full time courses which lead to recognised qualifications.
Most students are aged under 25. All teenagers are now guaranteed a place at college once they leave school if they do not have a job or do not go to university.
Complex mergers
Shona Struthers, chief executive of Colleges Scotland, said:"The Scottish Funding Council's report on the impact of college mergers, shows that overall colleges planned and implemented the mergers well, have made good progress and that mergers can be regarded as successful, against a backdrop of significant wide-ranging changes to the sector.
"Post-merger colleges are delivering benefits - significantly in driving positive and improved outcomes for students, integrating curriculum, and a better landscape for the delivery of skills. We're pleased the report reflects this.
"It is particularly encouraging that it highlights progress such as much more effective engagement with employers and schools by colleges since the reorganisation of the sector.
"The context within which the mergers were implemented was complex. The college sector however, is not complacent and we acknowledge that there are still areas where further work is required. We are committed to working with the SFC, Scottish government and other key stakeholders to continue progress."