An Italian tour of Scotland at the start of the 20th Century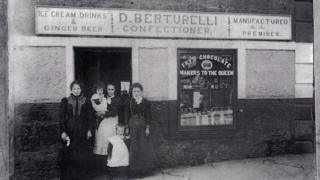 In 1908, Gaetano Cafaro decided to set off on a series of journeys.
They would take him across Scotland to visit fellow Italians around the country and report his findings on their experience in their new homeland.
The articles he produced appeared in La Scozia - a Glasgow-based newspaper for the growing Italian community.
They paint an interesting picture of both the life of immigrants at the time as well as the towns he visited during his travels.
Dr Carlo Pirozzi, a postdoctoral research fellow at St Andrews University, discovered the articles during his research into Italian emigration to Scotland.
"It is certainly the first and only newspaper for Italians in Scotland, published weekly for the full year of 1908," he said.
"After its closure a new journal, Riscossa Latina, was launched in 1909 by one of the contributors to La Scozia, but closed at the end of that year.
"One of the most interesting columns in La Scozia was Gaetano Cafaro's In giro per la Scozia (Around Scotland), personal sketches of some of the Italian communities in Scotland."
Cafaro was the co-founder of the newspaper along with his brother Philip, who was the editor.
Along with their father, they ran an Italian bookshop on Dundas Street in Glasgow.
The newspaper was first printed on 10 January 1908 and among the articles it carried was a "disappointing note" quoting the Glasgow Herald of the time.
It reported on a gathering of public bodies interested in the welfare of young people in the city.
They had concluded ice cream shops were doing "serious injury to the physical, mental and moral welfare" of the youth and legislation should be sought to ensure they closed at 10pm on week nights.
'Detailed picture'
Despite such opposition to their trade, Cafaro found the Italian community was thriving.
"Travelling around the country, Gaetano visited Italian communities in Stirling, Coatbridge, Airdrie, Hamilton, Motherwell, Wishaw, Uddingston, Falkirk, Grangemouth, Dunfermline, Cowdenbeath and Dundee," said Dr Pirozzi.
"Our reporter provides valuable details about the Italian presence in these places: dates of arrival, living conditions, coexistence and integration with the Scots, types of activity and trade, and encounters with some members of the community.
"All this gives us a brief but detailed picture with insights into the Scottish cities visited."
But what conclusions did he come to about these places and their new residents?
---
On Coatbridge
"The town has nothing beautiful about it, but the many factories and coal mines show a great deal of industrial and commercial activity."
On Cowdenbeath
"The commercial conditions are better than in other places ... Drinks in these shops cost a penny more than in other towns so at least they are not working for nothing. I hope this news encourages others to copy Cowdenbeath and get Italian businesses to work together."
On Wishaw
"Italians have been in Wishaw for a good 18 years. The first ice cream shop was opened by Giuseppe Forte. Since then the number of shops has continued to grow so that now there are about 20 between ice cream shops and restaurants. Italians live peacefully here apart from when, from time to time, they suffer insults and worse from local youths."
On Airdrie
"As in Coatbridge, the dense black smoke from the chimneys of homes and factories is blown to and fro by the wind. It enfolds whoever it reaches and tinges black the walls, signs, doors and even the faces of local people."
On Dundee
"If the western part of Scotland is richer in terms of natural beauty, the most amazing works of human construction are found mainly in the east. In Dundee there are a good number of Italians with a good number of shops - more than 100. These good people are liked and respected by the locals and also - which is more noteworthy - get on with each other. Three years ago they fought strenuously and won their case against closing their shops at 10pm."
On Dunfermline
"The town situated in spectacular countryside is made even more attractive by superb new buildings partly funded by industry and partly funded by the generosity of its rich citizen (Andrew Carnegie). Only three Italian ice cream shops have managed to establish themselves in Dunfermline as it is now impossible to find a space on the main thoroughfares. Everyone can imagine, therefore, what a happy and hard-working existence those businesses have in such a town. One of them is Mr Staffieri who has opened a big billiards room next to his shop and it has become one of its foremost meeting places."
On Stirling
"The first compatriots we meet are Mr Nardini and Mr Bonini who are very interested in the purpose of my visit and the newspaper for the community. There are six Italian cafes in Stirling and two fish restaurants. Mr Giovanelli spoke to me about the necessity of creating a school - especially for Italians who cannot read or write."
On Motherwell
"Motherwell has a good number of Italian ice cream shops and restaurants. The first one to open was by Mr Giuliani some 17 years ago. Italian businesses have enjoyed a rapid expansion in recent years and there are now about 20. Four years ago they were able to form a society and agreed to put up the relatively low price of drinks by half a penny."
On Falkirk and Grangemouth
"According to Mr Lemetti, who met me at the station, there have been Italians in Falkirk for about 20 years running - as usual - ice cream and fish restaurants. Guglielmo Stefano was the first and businesses have developed quickly thanks to the efforts of the Moscardini brothers. Now there are more than 25 shops in and around Falkirk. From Falkirk to Grangemouth you travel about two miles through thick woods. The town is lovely, sitting at the mouth of the Forth where the waters of the Carron flow and create one of Scotland's main ports."
On Hamilton
"This is a nice, attractive and relatively elegant town. It was more than 25 years ago that Filippo Valvona opened the first ice cream and sweet shop in Hamilton. Since then they have not only increased in number but also been improved to create splendid shops the likes of which are rarely seen even in Glasgow."
On Uddingston
"I have never seen a nicer day in Scotland than when I visited Uddingston. This elegant little town is admirably attractive. If it wasn't for the smoke in the distance from factories in surrounding towns you could think you were in an Italian resort. That's not to say it is without factories - in fact there is quite a well known one making sweets and candies. Italians have only been here a few years and there are six shops. "
---
Now Dr Pirozzi hopes to recreate those journeys to take a snapshot of the situation today.
"Recreating the trips made by the journalist Gaetano Cafaro, more than 100 years later, we have the aim of researching what has changed and what remains of the Italian community in these places and stimulating memories and new dialogue with the Italian community in Scotland now," he said.
"Bearing in mind current concerns about immigration and integration, to what extent is there still a visible and distinct Italian community?"
---
If you could help Dr Pirozzi with his research and have information or opinions about the Italian community in Scotland today email giancarlo.rinaldi@bbc.co.uk.