Wimbledon champion Gordon Reid's sporting dream for kids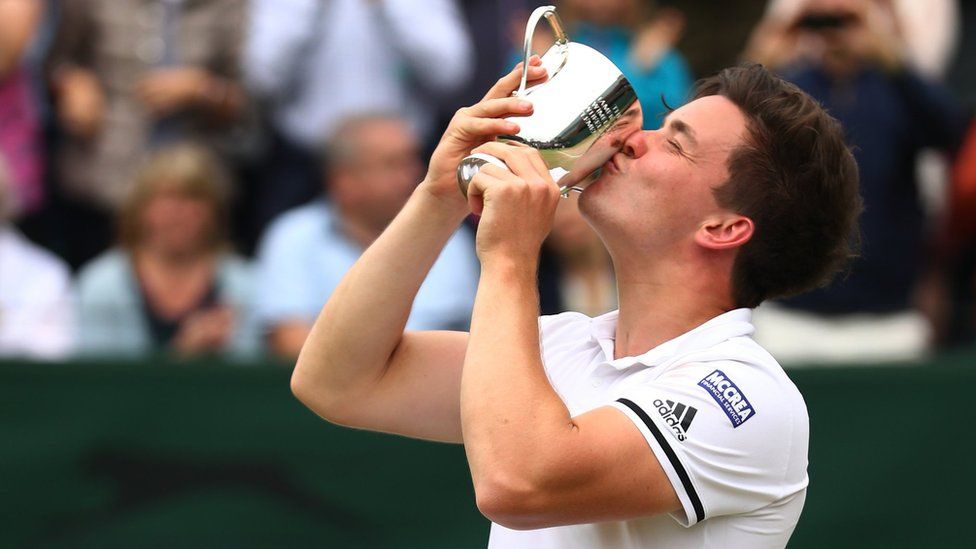 With just a few weeks to go to the Paralympics in Rio, there are more Scots in Team GB compared to the games in London four years ago. Disability campaigners say there's more interest and awareness than ever before thanks to the success of athletes like wheelchair tennis champion Gordon Reid. He's been giving a few tips, to our reporter Suzanne Allan.
He won the Wimbledon men's tennis singles final on 10 July.
It was a moment Gordon describes as "incredible".
Now I am facing that Wimbledon champion - and about to take a shot.
Memories flood back of school days when I was usually second last picked for any team (a dislocated hip dented early sporting confidence). Therefore, I am extremely nervous at the touch of a ball.
I hit it. It doesn't even make the net. But it does on my third attempt and Wimbledon champion Gordon Reid is encouraging me to try again.
I'm here at Scotstoun Sports Campus in Glasgow with other journalists and a group tennis-mad six and seven-year-olds to try out wheelchair tennis.
Gordon is very patient - but it's hard. Wheeling the chair fast enough to move the ball is the biggest challenge. After half an hour, I can move the chair quite well, but doing that and returning Gordon's service is big ask. We do manage a small rally and I feel triumphant.
Gordon and fellow paralympian, judo star Sam Ingram, are here to teach anyone disabled or not about judo and wheelchair tennis. It's a special place for Gordon.
He says: "This is the place where I had my first ever wheelchair training session back in 2005. So, to be back here today and introducing the sport to more kids is fantastic.
"I think the chair is the most difficult part of our sport. It takes a lot of practise and a lot of getting used to. But the kids did an amazing job today and hopefully that helps spread the message of Paralympic sport."
When the paralympics start in September, there will be 16% more Scots in Team GB than in London 2012.
The 32 Scottish athletes in the team are competing in 12 sports - again more than the Olympics four years ago.
There's no doubt the last few years have seen greater interest - according to Scottish Disability Sport, anecdotal evidence suggests a lot more people are getting involved in their local sports clubs.
Gordon Reid's triumph at the the men's wheelchair doubles at Wimbledon generated a similar level of activity on social media as Andy Murray's win in the men's singles.
Caroline Johnston was the first person to give Gordon a taste of wheelchair tennis. She is the disability co-ordinator for Glasgow Life and says all it takes is a phone call.
"Any club can open its doors to any athlete regardless of ability. And if you are unsure, there are people to help train your coaches," she says.
"So go out there, challenge the clubs and say I want to come and play my sport on my doorstep - I want to come and play it here.
"The clubs will then go out and find somebody to come and help them open their doors to those athletes."
Sam Ingram, who lives in Edinburgh and will compete in Rio in the under-90kg judo category, thinks attitudes have changed.
He says: "People always knew there was a para games. But now people know there's wheelchair tennis, there's blind football, there's judo - it's not just athletics.
"Britain is doing a really good job of it, I think. We are definitely stepping forward, even in the highly-developed world like America they are saying that they don't get the same support or kudos from the general public."
Gordon and Sam are off to Rio for the paralympics in the next couple of weeks. They're both hoping to be on the podium with a medal around their necks.
Me? I was just glad to survive the session with my self-esteem in tact.