Scottish Labour leader Kezia Dugdale to marry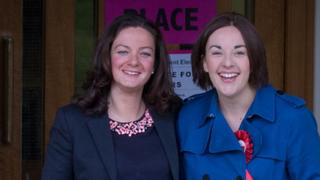 Scottish Labour leader Kezia Dugdale has announced she is to marry her partner Louise Riddell.
Ms Dugdale told the Daily Record she was "utterly thrilled" after getting engaged during a trip to Mallorca.
The couple have been in a relationship since 2008 but Ms Dugdale, 34, only publicly revealed she was gay four months ago.
She said: "I'm utterly thrilled to be marrying the love of my life and we can't wait to start planning."
Ms Dugdale added: "We hope this news brings a smile to peoples' faces and we'll certainly be toasting all those campaigners and activists who made marriage equality possible."