Disruption as summer winds batter Scotland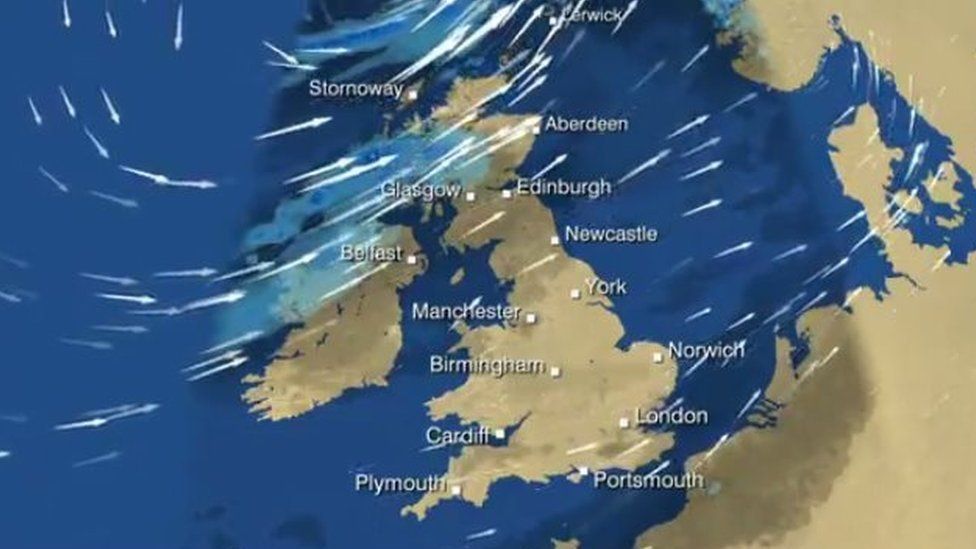 High winds have caused disruption in many parts of Scotland on what the Met Office says could be one of the windiest summer's day on record.
Weather stations from Lanarkshire to Kinloss have noted unusually strong gusts, with speeds of 68mph recorded at Loch Glascarnoch in the Highlands.
A yellow "be aware" warning is in place covering most of the country until 23:55 on Sunday.
Train services have been disrupted and energy supplies affected.
Network Rail said disruption was affecting routes between Dundee and Aberdeen and between Glasgow and Oban after trees fell on to the line.
Homes in Broughty Ferry and Dundee have also been affected by a power cut.
Met Office meteorologist Stuart Brooks said the wind speed on top of Cairngorm in the Highlands had so far reached 115mph and the weather station there was on track to note the highest gust ever recorded in summer.
He said: "Today has been one of the windiest days for 10 or 20 years or so. However, it is not as bad as in 25 July 1988 when Glasgow Airport saw wind speeds of 68mph."
A wind speed of 59mph was recorded in Tain in the Highlands on Sunday.
On South Uist in the Outer Hebrides, a gust of 56mph was recorded, with 55mph recorded in Aultbea in the north-west Highlands.
Wind warnings or restrictions have been put in place on bridges, including the A90 Forth Road Bridge, A87 Skye Bridge and A92 Tay Road Bridge.
The weather has also disrupted CalMac ferry sailings on the west coast, with some services cancelled or suspended.
Several events across the country have been cancelled, including the Foodies Festival in Edinburgh's Inverleith Park and an annual raft race in Lossiemouth, Moray.
Outdoor events at the Merchant City Festival in Glasgow were also cancelled and the Summer Nights concert at Kelvingrove Bandstand in the city, featuring Justin Curry and Lloyd Cole, has been rescheduled for Wednesday.
There had been fears the weather might impact on the Montrose Music Festival, where Canadian singer Bryan Adams is due to perform, but organisers said the event would go ahead.
The unseasonably windy weather also resulted in a historic boat, which was due to show at the Johnshaven Fish Festival in Aberdeenshire, being blown over.
The Reaper, which is one of the few of its kind to remain seagoing, was partially submerged overnight at Johnshaven Harbour.
The weather has resulted in trees being blown over, with reports of trees blocking pavements and some routes in Glasgow.
Forecasters had said that while the expected gusts were not exceptional for some areas of the country, increased outdoor activity at this time of year meant there was a greater risk of disruption.
They said that the windy conditions were due to a relatively deep area of low pressure moving slowly eastwards between Scotland and Iceland.
Further warnings of gale force winds have been issued for the Highlands and the Northern Isles and cover from 00:05 until 18:00 on Monday.