Message in a bottle girl 'Kacey' is traced after internet appeal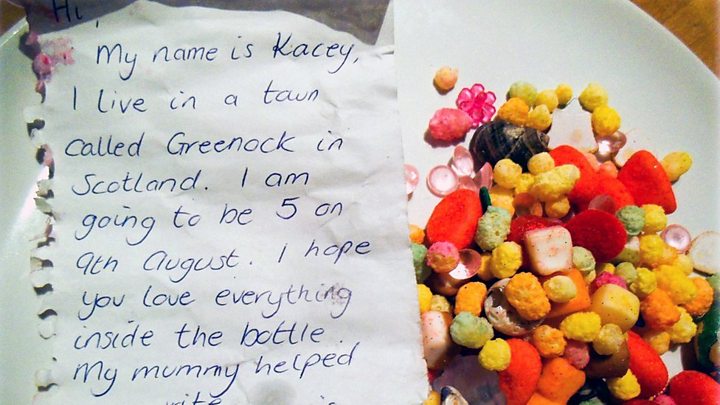 A young girl who wrote a message in a bottle has been traced after an internet appeal went viral.
Kayak angler Nicolas Valentin discovered the sweet-filled bottle floating near Rhu in the Firth of Clyde on 1 August.
A note inside said it had been launched by a girl named Kacey from Greenock who would be five years old on 9 August.
Nicolas, 53, took photos and posted a video on his Facebook page which has been shared more than 5,000 times.
"I thought it was litter at first. I picked it up to take it ashore to discard it," he explained.
"Then I saw all the sweets and the little note inside."
It read: My name is Kacey, I live in a town called Greenock in Scotland. I am going to be 5 on the 9th of August.
I hope you love everything inside the bottle. My mummy helped me write. If you find can you post on Facebook. x
He said: "I posted it for my Facebook friends, but thousands ended up sharing it.
"I didn't really think I'd find the girl, but I found her within hours"
The post reached Kacey's mother, Claire Nicholas - who contacted Nicolas and revealed Kacey had sent the bottle just a day earlier.
"I was amazed that a fisherman would go to the trouble of trying to track Kacey down," she said.
"I let her watch the video Nicolas made and her face lit up.
"Kacey thought it would travel to America. Even though it didn't quite make it that far she's very pleased it was found.
The bottle was recovered just four miles from Greenock at Rhu, on the opposite side of the Firth of Clyde.
Kacey got the idea for her message from a library book.
"It's about a little snail who travels the oceans on a whale's tail and leaves messages on its travels," said Claire.
"I suggested we write our own little message and see how far around the world it would go.
"Kacey kissed the bottle before it went in the water and made a wish that someone would find it."