Scotland 'needs more pig farmers'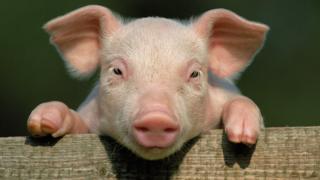 Scotland needs to recruit more pig farmers to meet increasing demand for the country's pork, according to industry leaders.
Scottish Pig Producers said it was an exciting time for the industry thanks to the weak pound and recent investment in new abattoir facilities at Brechin.
The organisation also said supermarkets were making an increasing commitment to domestic pork.
It has launched a campaign to bring more people into pig farming.
It said the aim was to recruit the next generation of pig farmers to drive the industry forward and add dynamism to the sector.
'Spare shed'
Chief executive Andy McGowan said: "It is an exciting time for Scottish pigs. We have strong market signals and there is growing optimism in the sector.
"If you are thinking of diversifying your business or looking for a new challenge, the time could be right as we have opportunities for both new and existing farmers.
"All that may be needed is a spare shed to finish animals."
A package is being worked on with feed merchants and abattoirs to help new pig farmers succeed, with a mentoring system involving existing producers also being put in place.
Mark Donald, chairman of NFU Scotland's New Generation committee, said the barriers to entry were lower for pig farming than for many other sectors, with some very successful farmers starting with "only a shed and the drive to succeed".