Antibiotic-resistant bacteria detected in Scotland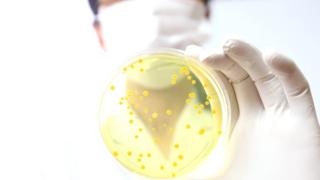 Bacteria resistant to one of the antibiotics of "last resort" and a "substantial public health risk" have been discovered in Scotland.
Medical researchers detected the mcr-1 gene in a salmonella patient who had recently returned from south-east Asia.
The gene was discovered in China last year, leading scientists to warn of a "post-antibiotic" era.
It is the first time that the bug, which is resistant to the antibiotic colistin, has been found in Scotland.
The discovery was revealed in a Health Protection Scotland (HPS) report. HPS said the traveller was recovering and had not required antibiotic treatment.
Colistin is one of the drug doctors turn to when all other antibiotics fail. The HPS report notes that the bacteria's resistance "further limits treatment options" in some patients.
In December 2015, Scientists found the gene at three farms and in samples of human infections in England. It has also been detected in other parts of Europe, Asia and Africa.
Officials at Public Health England said then they were monitoring the situation "closely", but added the public health risk posed by the gene was "currently considered very low".
Dr Michael Lockhart, a consultant medical microbiologist for HPS, told BBC Scotland that the mcr-1 gene discovered in the salmonella patient was a "resistance mechanism" that could be shared between bacteria.
"Right now, it's not a huge risk to public health, but if we're not careful it could become a substantial risk," he said.
"It's our ultimate concern that we will see infections that are difficult to treat or untreatable."
Analysis from James Gallagher, BBC News website health reporter
Doctors in the UK thought they had three years before colistin-resistance would spread from China to the UK.
It raises the prospect of untreatable infections - what is known as the antibiotic apocalypse and threatens to plunge medicine back into the dark ages.
The DNA that gives bacteria resistance to colistin - the mcr-1 gene - can spread rapidly between species.
The concern is that colistin-resistance will now find its way into other superbugs to create infections that doctors cannot treat.
Dr Lockhart urged all members of the public to be careful about their use of antibiotics.
"We can do this by not asking our doctors for antibiotics when we have a cold. We should also complete any courses of antibiotics as directed by doctors."
He said people should only ever use antibiotics under medical prescription, use good hand hygiene and obtain vaccinations to protect us from infections such as flu - and also as needed when travelling abroad.
"By preventing infections, you are reducing the need to be exposed to antibiotics," he added.