Humpback whale feeds off Aberdeenshire coast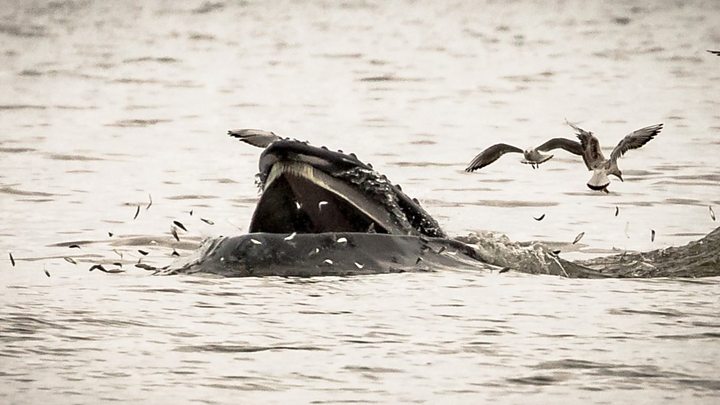 Amazing pictures taken from a beach show a Humpback whale feeding off the Aberdeenshire coast.
Lee Watson and wife Eilidh, both volunteers with British Divers Marine Life Rescue (BDMLR), spotted the giant creature in the Ythan Estuary.
The pair had been tipped-off about a large creature in the waters near Newburgh beach.
"We'd heard rumours that there was something big out there," said Lee. "But nobody could get clear pictures.
"We were on the beach for about three hours and suddenly it just popped up in front of us.
"At first we thought it was Minke whale, but we were able to identify it as a Humpback."
Lee, 34, shot video footage while Eilidh, 35, photographed the whale on Saturday morning.
Their pictures show the Humpback "lunge feeding". It swims through a shoal of fish with its mouth wide open, bursting through the surface of the water.
Conservationists believe Humpbacks are returning to former feeding grounds as the global population recovers.
UK sightings are not common, but BDMLR said they were "not as rare as people might think".
Operations manager Stephen Marsh said: "There were only 5,000 when Humpback whaling was banned in 1966. Today there are about 60,000 worldwide.
"We see them in Scotland, Cornwall and East Anglia. The best thing the public can do is observe and enjoy."
Humpbacks can face danger in fishing areas with creel lines. BDMLR has a specialist team that can help whales that become entangled.