Store Wars: Town centre decline and what can be done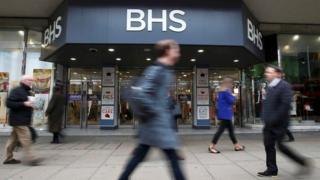 Most of Scotland's remaining BHS stores closed over the weekend. Even the shop fittings had been on offer in the closing down sales.
"The vultures," one staffer muttered, as shoppers casually picked over the corporate carcass. "These people never came in until this, and now they're in to look for bargains."
More than 500 Scottish staff are out of a job. Around Britain, 20,000 pensions are at risk of having to fall back on the national protection scheme.
The departure of BHS stores is a time for anger at the manner of its demise, and also nostalgia for 90 years on Britain's high streets.
The most common memory I've heard has been of being taken to buy school uniforms there. The Back to School promotions now getting under way ought to be a bumper time for it.
The most common reaction is one of anger that Sir Philip Green paid his wife, resident in their tax haven, a very large fortune from the company's earnings. And as its finances headed for the cliff edge, he passed it on to a woefully inadequate new owner.
MPs concluded Sir Philip left the company "on life support", its pension fund starved of funding. He is the latest to be dubbed "the unacceptable face of capitalism".
(There are quite a few such faces. A Gallup poll, reported in The Economist, suggests big business is trusted by less than a fifth of Americans. That's a lower trust level than newspapers, unions and banks, and a lot lower than small business.)
Diminished market
But perhaps the former boss of the defunct retailer is not the only one responsible. BHS collapsed because its market had diminished.
You could argue that Sir Philip should have invested to update the business model and compete. But the main reason BHS lost market is because its rivals had a more attractive offer.
The formula of school uniforms, cheap-ish fashion, value homewares and lighting did not respond to the rise of Primark, the non-food offering of Tesco and Asda, and IKEA.
Yes, this was a company forced out of business by its competitors. Such churn is to be expected, as a necessary part of business.
And for all that 500-plus jobs are going in Scotland, and 11,000 across the UK, many other roles have been created as those rivals have expanded.
But while retailers come and go - think also Woolworths, Comet, Borders, Brantano, Austin Reed - what is different now is that healthy retailers are in retreat from the traditional high street.
Instead of showing their strength by expanding to have a presence in every shopping centre, the multiples are shedding less profitable stores. Several are cutting down to Britain's 100 or so biggest shopping hubs.
That means cities can retain outlets, but mid-size towns lose out. And both city and town centres have lost out immense amounts of footfall to out-of-town malls and supermarkets.
Typically, BHS is vacating the two-storey anchor store on a high street - the kind that may still be occupied by Marks & Spencer or by Boots.
According to Prof Steve Burt, a retail expert at Stirling University, that is proving to be the unit that is hardest to fill.
Those still operating them are struggling to entice people off the ground floor. It's well known that Marks & Sparks has had long-running difficulty in reviving its fashion brands, while doing nicely with its food offer. Boots has lost its appeal in photography and homewares.
And then, there's the internet. That has already taken around 15% of retail sales, and that share is near certain to keep rising. Only last week, approval was given to delivery by drone, making the online shopping experience even more convenient, and perhaps curtailing the rapid rise of small van deliveries.
Without much growth in consumers' disposable income, these online sales are displacing shop floor sales, and reducing return on bricks and mortar investment.
Moreover, the internet provides the means for quick price comparisons. If they are to compete, that squeezes the margins on shops.
One response is what you find at Sports Direct - space crammed full of stock, competing on price, and now notoriously fierce stock-handling efficiency.
Another is to make shopping into more of an experience, where quality personal service gives the customer an interaction that can't be bought with the click of a mouse.
Low-cost access
This can be in a big branded store, or in an independent, where shopkeepers know their community and their customers personally.
That is seen as one of the successes of the short Bank Street in Kilmarnock. It draws people off the conventional, pedestrianised King Street towards smartly refurbished buildings, small, independent boutiques, a one-stop shared premises for seven businesses offering complementary wedding services, plus coffee shops and bars.
Tracy Murray, co-owner of Cove women's fashion boutique, is chairwoman of the Kilmarnock Business Association, which changed its name and remit in recognition that shop owners have to work with a wider range of businesses to revive town centres.
She is also a reminder that the internet is not all bad for conventional retail. It offers low-cost access to big networks of existing and potential customers. A lot of Cove's marketing is on Facebook.
The squeeze on retail comes with a warning of a formidably big squeeze on jobs. The British Retail Consortium published a report in February forecasting 900,000 jobs could go, out of around three million in shopping.
Of 270,000 shops, 74,000 could shut, and the worst-hit areas would be the more marginal ones. This came, of course, with a plea to government not to load on the costs of the new minimum wage structure, and the Apprenticeship Levy.
To another retail expert at Stirling, Professor Leigh Sparks, planning policy has meant 40 to 50 years when people have been drawn out of town centres. This wasn't just the planners' fault. It was where the retailers and their customers chose to go. Small, more rural towns were crying out for their own outlets of the big supermarket chains.
While the major supermarkets - notably Tesco, Asda and Morrisons - have been badly burned by failing to prepare for the shift from the big weekly family shop to convenience shopping more often each week, the professor says that the attempts to revive town centres is not going to be achieved overnight.
Prof Sparks has been closely involved in the Scottish government's attempts to address the public's unease at seeing their high streets becoming too often down-at-heel.
The policy has been to push councils into "town centre first" strategies. These encourage employers into town centre offices, sometimes starting with council employees themselves.
Out-of-town retail planning permission has to clear much higher hurdles than previously.
And the review of town centres has highlighted the need for them to adapt by finding more diverse uses.
That can include leisure. Gyms are being run from bigger empty shops. Unused shop space can become community centres, available for meetings, events and cultural happenings.
Landlords can help stimulate activity and footfall by offering rent-free opportunities for pop-up shops. Retailers strenuously argue that councils should be doing more to do the same with business rates, and that reform should shift from fixed annual costs to a share of turnover.
'Improved quality'
The evening economy extends the footfall hours, with coffee bars and "casual dining" restaurants expanding rapidly in recent years. They have proven remarkably resilient in the face of squeezed disposable income, though part of that churn of business means that they are part of the reason why the Great British boozer is feeling beleaguered.
The pubs that are thriving are expanding into improved-quality food and craft beer. Chains such as Wetherspoon's are opening out converted shops and banks rather than taking on established drinking dens.
Town centres can also be revived as attractive places to live. In most towns and cities, if you look above the shop fronts, you will often find empty space and sometimes fine, distinctive but neglected architecture.
Whereas they are now sprouting plants and weeds, these premises could be part of the solution to the housing shortage, as well as the town centre's decline.
In the end, town centres will not be revived by plans or planners or retail investments, but by shoppers.
It is the effect of many millions of individual decisions to move away from the high street that has left it looking weakened. It is by reversing that trend that town centres can recover.
So next time you see an empty shop and complain about the fat cats who milked it for profit and abandoned its staff, ask yourself if you have played any part in that process.