Better Together donor on leaked Cameron 'honours list'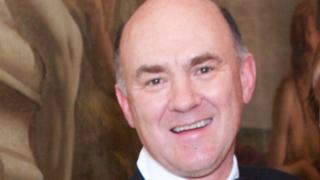 Businessman Ian Taylor, who donated £500,000 to the Better Together campaign, is in line for a knighthood according to a leaked list of David Cameron's resignation honours.
The Sunday Times newspaper said the ex-PM had chosen to reward cabinet colleagues, donors and staff.
Oil trading firm boss Mr Taylor also gave money to the Remain campaign.
Opposition parties have called for a complete overhaul of the honours system. No 10 declined to comment.
Mr Taylor, who was worth £175m in 2015 according to the Sunday Times Rich List, backed the Better Together campaign for Scotland to remain part of the UK in the 2014 referendum with £500,000.
The then first minister, Alex Salmond, called for the money to be paid back due to controversy about Vitol, the company where Mr Taylor is chief executive.
Heavily fined
The firm was heavily fined by a New York court in 2007 after admitting making payments to the national oil company in Saddam Hussein's Iraq which were outside the remit of the UN's oil for food programme.
It was also reported to have paid $1m to a Serbian paramilitary group, Arkan, as part of an oil deal in the 1990s, although the company said it had not acted illegally.
Mr Taylor has also given money to the Conservative Party and the Remain campaign for the UK to stay part of the EU in the 2016 referendum.
According to newspaper reports, Will Straw, head of the failed official Remain campaign, has been proposed to be made CBE, while another major donor, Andrew Cook, is also in line for a knighthood.
Outgoing prime ministers have the right to draw up a resignation honours list on leaving office.
Mr Cameron's Remain-backing cabinet colleagues Philip Hammond - now the chancellor - Michael Fallon, Patrick McLoughlin and David Lidington, are all said to have been recommended for knighthoods.
It is also claimed that former chancellor George Osborne be made a Companion of Honour, while Isabel Spearman, a special adviser to Mr Cameron's wife Samantha and widely described by newspapers as her "stylist", is in line for an OBE.
'Truly ridiculous'
SNP MSP James Dornan said the list "highlights how truly ridiculous the honours system has become", with "knighthoods handed out by a departing prime minister as a form of personal patronage and reward to his donors, aides and MPs".
He said: "Reports that the honours have been held up due to ethical concerns over some of the nominees are particularly striking and cast even further doubt over David Cameron's judgement.
"Mr Cameron may think that he's able to sneak these out while departing for the backbenches but it's only right that these nominations come under very serious scrutiny."
Labour's deputy leader Tom Watson said the list of 48 names was an example of the "old boys' network" in action, saying it would "bring the honours system into disrepute" and "undermine the reputation" of his successor Theresa May.
However, Tory MP Sir Desmond Swayne, a one-time parliamentary aide to Mr Cameron, dismissed claims of "cronyism", saying people got "far too excited" about honours.
He added: "The reason we have a resignation honours list is because over a period of government, particularly difficult government in a coalition, a prime minister has to cajole and get the support of a number people and he builds up a debt of honour.
"I think that frankly an honours list is a relatively light way of paying it off. The reality is with any honours list there are names that will warm our hearts and names that will send us into an apoplectic rage."