ScotRail makes fresh offer to union ahead of planned strikes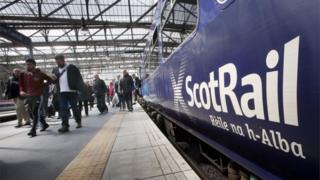 ScotRail has made a new offer aimed at averting fresh strikes in a dispute over the increased use of trains with driver-operated doors.
The offer guarantees that there will be a conductor on every new electrified train.
It is understood to have been made as ScotRail managers met union officials for talks.
The RMT said it would examine the offer, but that its programme of industrial action remained on.
ScotRail said it had been "encouraged" by the latest talks.
The dispute centres on proposals to operate more trains with the driver operating the doors rather than guards, with further strikes planned for later this month.
'Track rules'
Workers are set to walk out again for 48 hours from 7 August, then for a further 24 hours on 11 August, and over the weekend of 13 and 14 August.
In a circular issued to its members on Monday afternoon, the RMT's general secretary Mick Cash said ScotRail's fresh proposal would guarantee that conductors "retain their full competency".
This would involve responsibilities including track rules, safety and evacuation, with trains not able to run without a conductor on board.
The proposal is subject to ScotRail and the RMT "entering into discussion about and agreeing a method of train dispatch for these services".
It adds: "Once this proposal and the method of dispatch are agreed it will be adopted for the Abellio ScotRail franchise and will apply beyond."
The RMT said it would make no further comment on the offer "until our members and representatives have had time to respond through the union's democratic structures".
A ScotRail spokesman said: "At today's meeting with the RMT we discussed a proposal that would see a conductor retained on the new electric trains when they enter service next year.
"It would also mean a change to the way in which those trains are dispatched.
"We were encouraged by the talks today but further discussion will need to take place.
"In order to enable this, we have asked the RMT to suspend all upcoming strikes and to encourage a return to normal working."
ScotRail had earlier threatened to take legal action against the RMT.
'Further disruption'
The train operator had claimed some of the union's actions during the long-running series of strikes may have breached industrial action laws.
The union said it would examine ScotRail's letter before responding formally to the allegations.
Transport Minister Humza Yousaf had convened a meeting of the Scottish government's resilience committee ahead of the planned industrial action, which he said would "undoubtedly mean further disruption for the public who are quite understandably losing patience with the current situation".
He added: "I believe there is a solution to be found through negotiation and as talks are still ongoing I would call for these strikes to be suspended and for all parties to focus on resolving this increasingly frustrating situation".