Armed robber stole cans of juice from Glasgow petrol station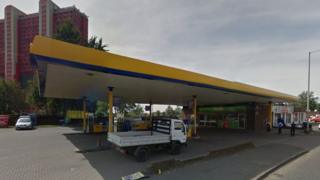 A robber armed with what appeared to be a gun was chased from a Glasgow petrol station with only some cans of juice.
The suspect threatened the assistant at the BP service station on Broomfield Road at 11:55 on Saturday, 30 July.
The man demanded cash, but ran away with the juice when chased by the 53-year-old male assistant.
Officers are also investigating a robbery at a city bookmakers on Friday afternoon, where a man of a similar description made off with cash.
In that raid, which occurred at the BetFred bookmakers on Hawthorn Street at about 15:20, the suspect was described as being white, in his early to mid twenties, of average height and slim build.
He was wearing black plimsoll style shoes, black trousers, a grey hooded zipper, dark sunglasses and a black baseball cap, and was last seen on Chestnut Street.
In the Saturday robbery at the petrol station, the suspect was of the same physical description, but wearing a dark woollen hat, dark sunglasses, a grey top underneath a dark coloured body warmer, blue jeans and white trainers. He made off along Ryehill Road.
Detectives at the Greater Glasgow Community Investigation Unit appealed for any witnesses to the robberies or who may have seen the suspect in the area to come forward.