Stinging jellyfish spotted on Scots beaches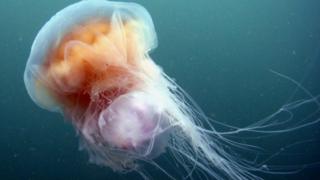 Researchers say a jellyfish with a powerful sting has been spotted on beaches around Scotland.
The Marine Conservation Society (MCS) said people should record sightings of the Lion's Mane jellyfish but should not touch them.
The charity wants people to report sightings of all species of jellyfish to their national jellyfish survey.
They said the creatures' arrival coincided with the summer season, when the seas began to warm up.
The Lion's Mane, which is common to the northern Atlantic, uses its stinging tentacles to capture and eat prey such as fish, sea creatures and smaller jellyfish.
MCS said that up until July, it had been a "relatively quiet year" for jellyfish reports, unlike the past two years when record numbers of barrel jellyfish were reported around UK seas.
'Climate change'
Dr Peter Richardson, head of biodiversity at the MCS, said external factors could influence populations.
He said: "There's evidence that jellyfish numbers are increasing in some parts of the world, including UK seas.
"Some scientists argue that jellyfish numbers increase and then decrease normally every 20 years or so, however, others believe these increases are linked to factors such as pollution, over-fishing and possibly climate change."
Researchers have found several species of jellyfish attracted to the UK's waters, including the moon species, which has been regularly spotted since May this year. The less common blue species has also been seen.
Also found in UK coastal waters was the compass species, which has, as its name suggests, compass-like markings.