Red Arrows headline Scotland's national airshow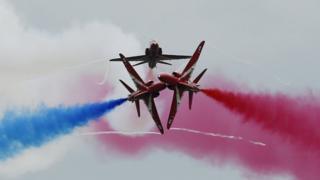 The Red Arrows have headlined Scotland's National Airshow in East Lothian.
The RAF aerobatic team were one of the star attractions at the airshow, which took place at the National Museum of Flight at East Fortune.
Other attractions included the Swiss Air Force PC-7 team and the Norwegian Air Force's Historical Squadron.
They were joined by a 1930s Bucker Jungmann, which was used by the German Luftwaffe and the Japanese air force.
Pilot Gavin Hunter and a a friend rebuilt the biplane after buying it six years ago in Stuttgart, Germany, where it had spent nearly half a century being stored in pieces in a garage.
More than 10,000 visitors were expected to attend the annual event, which will also featured displays from Battle of Britain aircraft, the Black Cats helicopter display team, a Catalina flying boat and three bi-planes - a Fairey Swordfish, a Stolp Starduster and Mr Hunter's Bucker Jungmann.
The Norwegian Air Force Historical Squadron features 1950s fighter jets including a Mig-15 and two de Havilland Vampires.