Scotland's summer - what a difference a day makes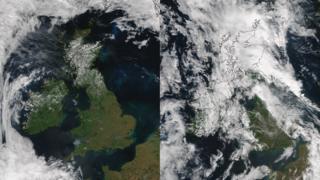 A stunning satellite shot has summed up 24 hours of sizzling and sodden weather in Scotland.
The country has gone from its hottest day of the year so far to spectacular thunderstorms, huge hailstones and flash floods.
Temperatures reached 29C on Tuesday but huge storm clouds swept over Scotland into Wednesday morning.
Images captured by the University of Dundee Satellite Receiving Station show how stark the contrast is from space.