Man bailed after death threats to MP Angela Eagle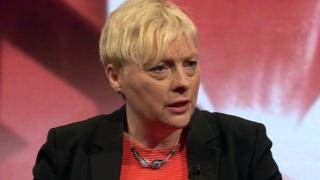 A man arrested in Scotland on suspicion of making threats to kill in an email to Labour MP Angela Eagle has been bailed.
The 44-year-old suspect was questioned by detectives following his arrest in Paisley, Renfrewshire, on Friday.
The arrest came after an email was sent to the account of the Wallasey MP.
A spokeswoman for Merseyside Police said: "The man has been bailed pending further inquiries."
Ms Eagle, 55, pulled out of Labour's leadership race on Tuesday.
She has now backed ex-shadow work and pensions secretary Owen Smith in his challenge to Jeremy Corbyn.
The ex-shadow business secretary said she was dropping out "in the interests of the party" and would back Mr Smith "with all her might and enthusiasm".