Trainspotting stars in Princes Street sprint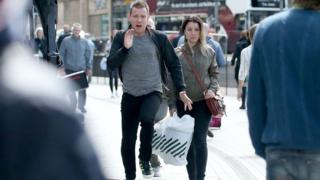 Trainspotting stars Ewan McGregor and Ewen Bremner have been spotted by fans sprinting along Princes Street in Edinburgh.
The actors were seen on Wednesday as they filmed Trainspotting 2, apparently recreating the iconic opening sequence from the original 1996 movie.
Danny Boyle's sequel will be titled T2 and will be released in January 2017.
McGregor and Bremner, who play characters Renton and Spud, were seen sprinting out of Urban Outfitters.
It is thought the shop had been transformed into an Apple Store for the day.
Onlookers crowded round as Danny Boyle directed the pair making a speedy exit out of the store, with parts of the street temporarily fenced off throughout the morning.
Fans took to social media after watching the film shoot.
One person tweeted: "Love working in Edinburgh! Just spotted @mcgregor-ewan filming Trainspotting 2."
Another said: "So was just in Edinburgh wondering why there was a film camera pointing in our direction then Ewan McGregor came flying past #trainspotting2."
The cast and crew of Trainspotting 2 have been seen filming at various locations across Edinburgh and elsewhere in Scotland over the past few months.
The long-awaited film will likely be loosely based on writer Irvine Welsh's 2002 sequel to Trainspotting, Porno.