Perception of BBC in Scotland "weaker" than rest of UK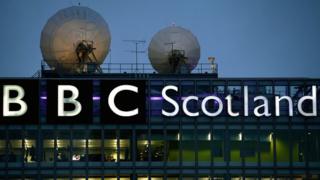 Perceptions of the BBC in Scotland continue to be "weaker" than elsewhere in the UK over the past year, research by the BBC Trust has indicated.
Audience levels for BBC Scotland's news programmes on radio and television were steady in 2015/16.
However, the trust found there remained a "perception of a shortfall in performance" during the year.
The findings were included in the BBC's annual report and the BBC Audience Council Scotland annual review.
The Trust's assessment for 2015/16 states: "After 2014, which brought large audiences to BBC coverage of two major events in Scotland - the Commonwealth Games in Glasgow and the Scottish independence referendum - it is impressive to see that BBC television reach has remained strong, with a smaller decline than across the UK overall."
It continued: "In Scotland, the audiences' general impression of the BBC has remained lower than the UK overall since the referendum, and dipped further during the UK general election.
"Approval scores for BBC news have remained broadly stable compared to last year, but down on two years ago.
"We encourage the BBC to ensure that the news and current affairs offer in Scotland is appropriate to the changing needs of its audiences."
Meanwhile, the Audience Council - which provides licence payers' feedback to the BBC Trust - said it believed there were still "important deficits in representation of Scotland in the BBC news and drama and that public discussions around changes to BBC news provision and the potential for more commissioning power to be based in Scotland could lead to improvements".
Changes to the BBC in Scotland are to be implemented through the UK government's charter renewal process, including ensuring certain levels of programming come from Scotland and an overhaul of governance.
'Strong appetite'
The BBC has also conducted a review of its news output in Scotland, including consideration of a "Scottish Six" hour-long programme.
Reflecting on the past year, BBC trustee for Scotland Bill Matthews said: "This has been a good year for homegrown Scottish drama on the BBC in particular, and overall the BBC in Scotland continues to deliver well.
"It's clear that Scottish audiences continue to have a strong appetite for programmes that reflect modern Scotland and their own experiences, and that extends to the BBC's news and journalism.
"As the new BBC Charter sets the course for the corporation for the next decade, the BBC must do more to meet audience expectations, adapt to new realities, and reflect and represent contemporary Scotland."