Number of people killed on Scottish roads fell by 20% in 2015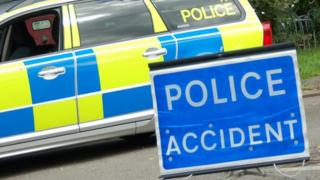 The number of people killed on Scotland's roads fell by 20% year-on-year, according to new figures.
A total of 162 people died following road accidents in 2015 - the lowest number since records began in 1950.
The number of those seriously injured in crashes also fell, dropping 3% to 1,597 according to statistics from Transport Scotland.
Transport Minister Humza Yousaf said: "I am absolutely clear one life lost on our roads is one too many."
The annual statistics, compiled by Transport Scotland, show a total of 10,950 people were injured or killed on Scotland's roads in 2015.
That is a reduction of 3% from 11,307 in 2014 and is the lowest figure on record.
Cyclists injured
A total of 974 child casualties were reported in 2015, including five fatalities - down from seven the previous year - and 140 serious injuries, a reduction from 172.
There were also three fewer cyclists killed and 18 fewer pedestrian deaths year-on-year.
However, the number of cyclists seriously injured on the roads increased by 3% in 2015 to 164.
The number injured or killed in accidents involving buses and coaches also increased, up by 14% to 332 in 2015 from 291 in 2014.
The Scottish government's Road Safety Framework to 2020 has targeted reducing road deaths by 40% compared with the 2004-2008 average.
The new figures show a reduction of 44% on that baseline, five years ahead of the target date.
'Casualty reduction'
The transport minister added: "Safety is an absolute priority and that is why the framework has an ultimate vision of zero fatalities on our roads. I am absolutely clear one life lost on our roads is one too many.
"We remain on track to achieve significant casualty reductions towards our 2020 targets, as well as realising our vision where no one is killed on Scotland's roads and the injury rate is much reduced.
"This progress is to be welcomed but we must not and will not become complacent.
"In particular, with certain road users such as cyclists, where there has been a big increase in people cycling, fatalities are down from 2014 but continued effort is needed to tackle serious injuries."